Modal Split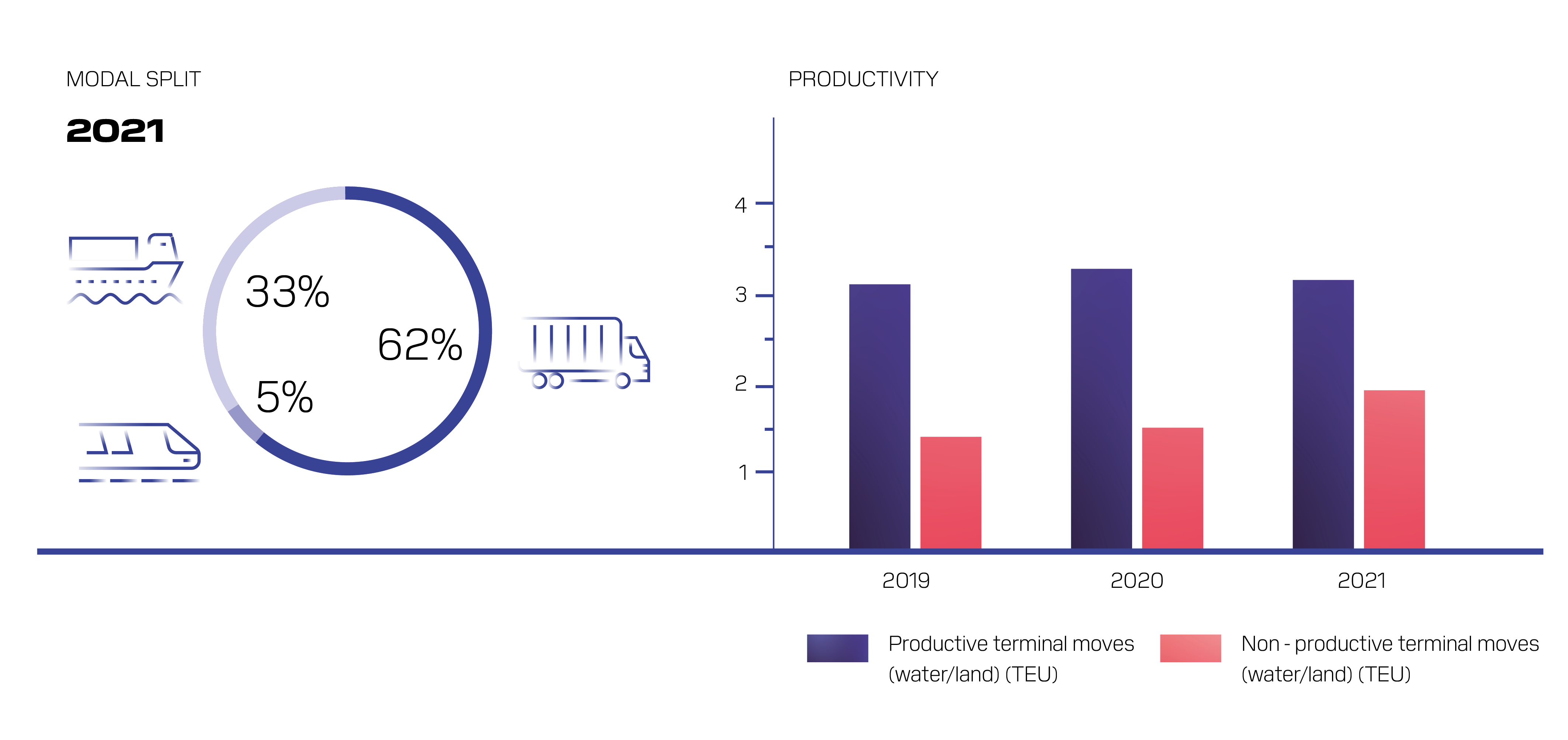 Efficient handling of barges
The Port of Antwerp is connected to both the 1,500 km long Belgian waterway network and the pan-European river and canal network because of its location in the Rhine–Meuse–Scheldt delta. Via the Albert Canal, we are linked by waterway to the most important logistics hotspots in Belgium.

The dedicated barge quay at the terminal offers barges a guaranteed berth. The mobile crane provides additional handling capacity for inland navigation. In spring 2021, shorter waiting times, lower cost, and better reliability resulted in a modal shift towards barges. In imports, we did not see this shift, as shipping companies wanted the containers back in rotation as soon as possible because of high sea freight rates and therefore gave them short free time. Truck transport is still the fastest and most flexible solution.
Better use of rail capacity
Antwerp is one of the biggest European rail ports and forms part of the three main rail corridors in Europe. To develop the hinterland connectivity of the terminal, DP World Antwerp has entered into several partnerships with rail operators offering reliable rail products into Europe. The rail hub at our terminal is able to handle 6 trains simultaneously and benefits from 6 rail tracks of 650 m, allowing us to handle any type of block train.

In terms of rail transport, the electrification of the "last mile" remains a dealbreaker for transport firms and railway companies, as train and locomotive changes are inefficient. In addition, the floods in Germany and on the Luxembourg–Belgium route and the DB strike in Germany slowed down the modal shift towards rail.

Since September 2020, in order to make even better use of the railway at our terminal, we have been cooperating with the neighbouring MPET terminal, which has no direct connection to the railway. Here, containers are transferred in the "rail buffer", a shared zone adjacent to our railway zone.

This cooperation not only has a positive effect on the modal shift towards rail but also reduces emissions, as rail containers no longer need to be transported to the other side of the dock.

From the start of this cooperation to the end of 2021, 6,745 moves were performed for MPET, representing 10,665 TEU.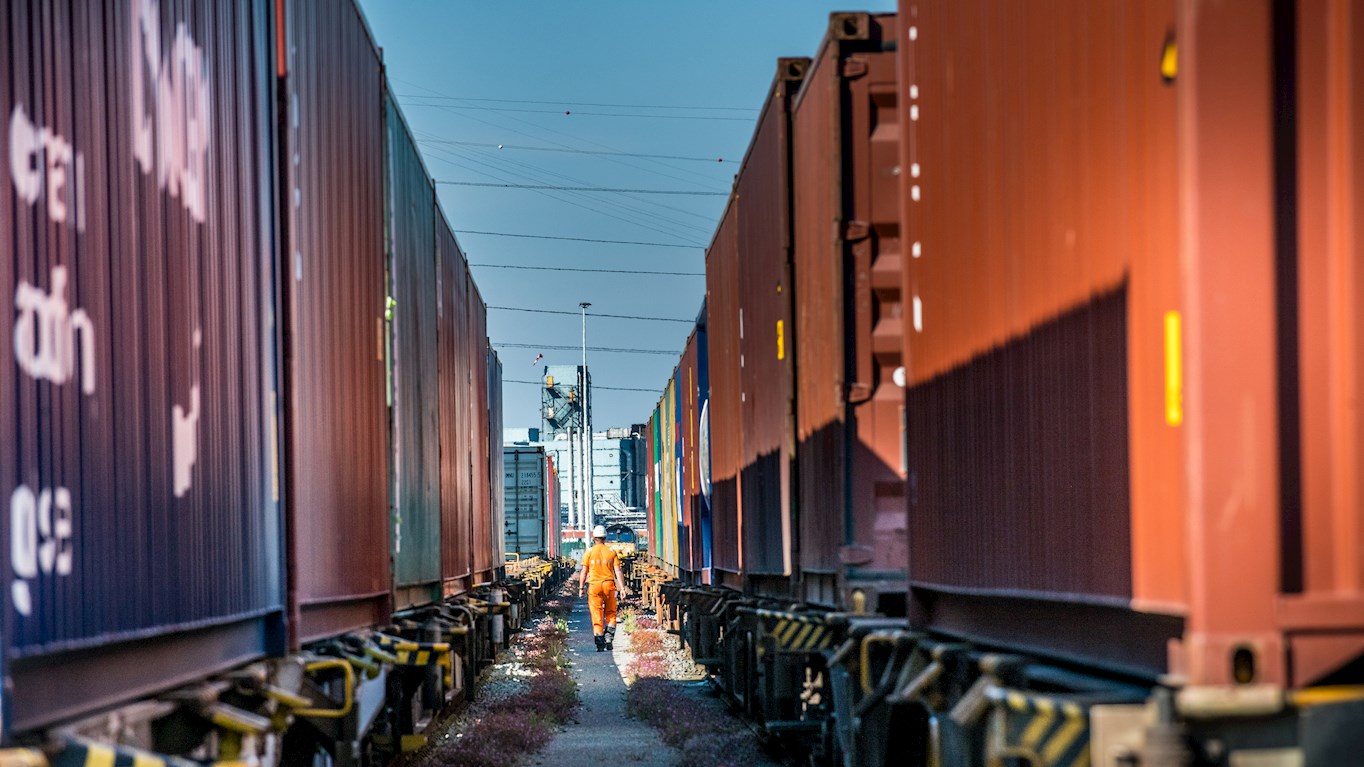 Road transport
Road transport plays a crucial role in connecting the Port of Antwerp with the hinterland because of its central location in the European road network. The port is surrounded by an extensive network of motorways with direct and fast connections to all major industrial centres in Flanders, Wallonia, the Netherlands, Germany, France, and many other destinations in Europe. Today, most containers are still collected and delivered by truck.

Since 2017 Antwerp Gateway has been open to truckers on weekday nights; Empty Depot Services followed in 2018. With this 24/5 opening, transport companies can optimise their fleet by using night hours to deliver containers to and collect containers from the terminal.

In 2019–2020–2021, a total of 187,379 daytime truck visits were avoided thanks to night opening.
We realise, however, that as long as the rest of the logistics chain does not implement night opening, this will prevent some trucking companies from organising transport at night.

COVID-19
The supply chain disruption resulting from COVID-19 led to an explosion of containers and, to this day, overcrowding in the yard. This has created a domino effect:
Containers are placed in locations where they are not intended to be, i.e. creative stacking.
Containers can no longer be stacked/placed strategically/efficiently.
The SC drivers have to make more unproductive moves and drive further.
Waiting times for container collection are increasing.
This has an impact on the number of unproductive moves. Although our stacking in the yard is becoming "smarter" every year, the number of unproductive moves has increased. The reason for this increase is not related to software but is due to the overcrowding of the yard since 2020, with occupancy sometimes exceeding 100%. This overcrowding means that containers cannot be placed "smartly".
SMART TRADING SOLUTIONS
DP World has developed a number of innovative digital logistics tools to make trading more efficient.
Route 1700 is the app for truck drivers introduced in 2019. The app supports truckers during their visit to the terminal and contains information about the route, opening hours, traffic at the terminal, safety, and important notifications. This makes visits smoother and more efficient.
E-World 1700 is the digital portal of DP World Antwerp, providing information about containers and vessels for all partners in the logistics chain. The platform was overhauled in 2020 to make it more user-friendly, intuitive, and efficient. On this portal, users can carry out and monitor their container operations. For example, transport companies can register incoming and outgoing containers and book and display time slots.
The digital applications are constantly being improved and expanded. In the future, the app will include more functions, such as safety induction and a digital kiosk for administration, so that the driver no longer needs to step out of his cabin. Specific integrations for transport companies are also being developed.
WHAT'S NEXT?
Cargoes Flow: The DP World head office developed the global collaboration platform "Cargoes Flow" for shippers to provide visibility throughout the supply chain. This platform retrieves information from all terminals worldwide and is particularly useful for large transport companies working with intermodal shipments. End-to-end tracking allows shipping companies to follow their cargo from start to finish and pick up and deliver their products faster.