About DP World in Antwerp
In 2021, the total capacity was 2.8 million TEU (2.6 million TEU since the end of 2021 due to expansion works at the terminal)
From local terminal operator to global logistics service provider
DP World Antwerp Holding is part of the DP World group. DP World is the leading provider of smart logistics solutions that enable trade flows across the globe. Our global network spans 64 countries and includes logistics terminals, maritime services, ports, and economic zones. The DP World group employs more than 56,000 people in 140 countries.
Investing in growth
DP World is investing almost 200 million euros to boost Antwerp Gateway's capacity by a third to 3.7 million TEUs by 2026. This will be achieved by means of extensive automation, improving efficiency, and maximizing the current space available. The remaining straddle carrier stacks will be converted to modules with Automated Stacking Cranes (ASCs) (17 modules in total), creating space to stack an additional 900,000 TEUs. In 2005, Antwerp Gateway was a pioneer with this state-of-the-art technology at the Port of Antwerp.
We are also investing in new equipment such as hybrid straddle carriers, 4 quay cranes, and a new operations building. Other areas of investment include digital applications and further automation.
Our entities
DP World Antwerp Holding NV, the holding company for the various enterprises and activities in Belgium; an indirect 100% subsidiary of DP World Limited in Dubai.
DP World Antwerp Terminals NV provides the dock workers for DP World's activities at the Port of Antwerp and carries out the activities at the Hupac terminal, a Swiss rail operator located at the Churchill dock on the right bank in Antwerp.
Antwerp Gateway NV is the state-of-the-art container terminal at the Deurganck dock, in which DP World is a 60% shareholder and performs a management role. The other shareholders are Cosco and Terminal Link (subsidiary of CMA-CGM and China Merchants) and Duisport (Duisburger Hafen).
DP World Antwerp Empty Depot Services NV is the empty depot near Antwerp Gateway for storage, repair, and maintenance of empty containers.
DP World Antwerp Customs Desk NV takes care of customs-related activities.
High-quality container services
Our core business consists primarily of loading and unloading containers at our Antwerp Gateway (AG) terminal at the Deurganck dock. Handling of vessels and barges (waterside) represents around 70% of the total volumes handled and around 80% of our revenue.
Vision, mission, & values
Our vision
We are the leading provider of smart logistics solutions that enable the flow of trade across the globe.
Our mission
Our goal is to enable global trade to flow and change by moving products quickly and sustainably through a single trading platform, helping our thousands of partners around the world to excel.
Our principles
Four principles form the cornerstones of our corporate culture: create growth, strive for results, allow others to excel, and adapt & evolve.
DP World Antwerp Holding in figures
Antwerp Gateway
After several years of strong growth, we have seen a stagnation in volumes at Antwerp Gateway NV in recent years. The global supply chain disruption is affecting the yard occupancy and causing the terminal to run at maximum capacity in recent months. In 2021 Antwerp Gateway's revenue grew by 10% to over EUR 140 million. This is mainly because the temporary storage of containers has become a major part of the terminal's activities.
In recent years, the focus has mainly been on operational excellence, allowing the terminal to achieve good returns even in difficult circumstances. Improvements in productivity, availability of equipment, and personnel punctuality and training are some of the measures taken in recent years. In 2021, we recorded a further substantial improvement in the net result.
In 2021, we also started the expansion of the terminal's capacity by 1 million TEU by ordering 4 additional quay cranes and 17 modules with automatic stacker cranes (ASCs). These investments amount to EUR 200 million and will be phased in by 2026 to facilitate the further growth of the terminal.
Empty Depot Services
The global disruption of the supply chain also had an impact on DP World Antwerp Empty Depot Services NV (EDS) last year. As AG became saturated with full containers, the empty depot was used to store the empty equipment. This translated into revenue growth of almost 20% for EDS. In 2021, revenue ended the year at EUR 16 million, compared with EUR 12 million in 2018. Once again, this improvement in the net result is due to increased activity. As with AG, a potential capacity expansion is currently under consideration in order to continue handling the increasing volume.
Some key figures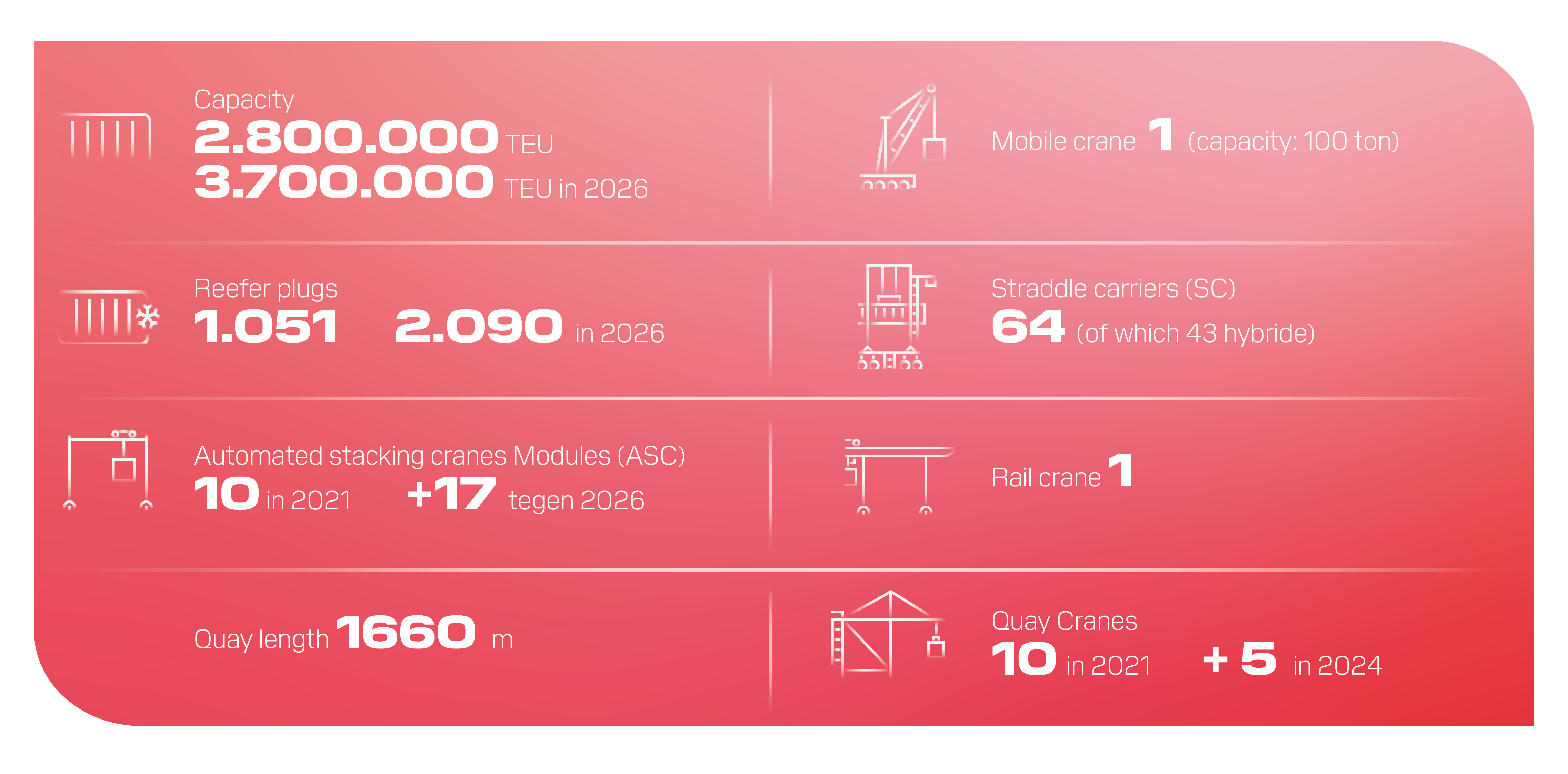 COVID-19
Impact of global supply chain disruption on DP World
The consequences of the COVID-19 pandemic will be felt in the transport sector for a long time to come: congestion and delays at ports, a shortage of sea containers, an increase in the cost of shipping goods. At our terminal specifically, we are seeing delays of one to two weeks for over 80% of vessels. This is leading to peaks and labour shortages.
Because the landside does not work 24/7 and there is a shortage of drivers on the road, DP World receives more containers than we can handle. As a result, containers are left standing too long, which leads to a high occupancy rate at the terminal. The optimal occupancy rate is 75%, which is our "sweet spot". At present, we are often fully occupied, which means that a large number of container movements are necessary.