Women at DP World in Australia
Date: 08/03/2021
"I probably wouldn't have sought out a job in stevedoring and logistics, but now I wouldn't work anywhere else"
- Megan Bedingfield, Commercial Manager, Australia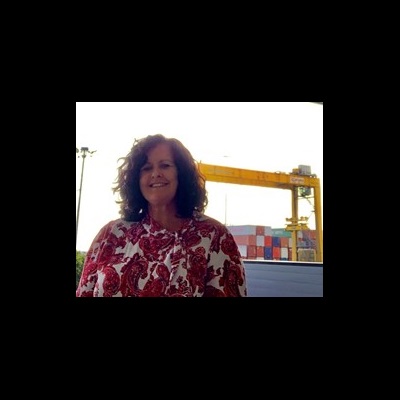 To coincide with International Women's Day 2021, we're shining a spotlight on women at DP World Australia to help dispel myths about our industry, share their working experiences, and discuss gender equality. Read our interview with Megan Bedingfield as she discusses what it's like to work at DP World.
What is a key piece of advice you would share with other women thinking of joining DP World?
DP World is an extraordinarily diverse business group with a global reach. The large range of opportunities on offer means that there is likely a role for you, whatever your passion.
As a woman in a male-dominated industry, what have been the main challenges you have overcome?
That one is easy. My biggest challenges have been self-imposed ones, second-guessing my capabilities and looking for stereotype excuses, like "that's a role they would only give to a man" to cover my lack of confidence. Having a supportive manager, a strong leadership team, and great mentors have helped me overcome this challenge.
What is the most annoying stereotype about women you have dealt with in your career?
Early on in my career, I was most often the only female in many meetings or conference events; the one thing that often happened was when it came time to decide who was taking notes, everyone would look at me; that stung.
How could our industry increase inclusivity, especially for women in frontline and/or leadership roles?

Having been in this industry for almost 30 years, I believe there is a false perception that it is not an inclusive industry. I can see why at first glance, it doesn't feel glamorous. Still, I believe it's more about understanding what our industry does and what roles and opportunities exist within it, which will encourage higher diversity.

I am a perfect example. When I applied for my first role in stevedoring, I didn't know what it was or what roles and opportunities existed. Most people I talk to today still don't know what stevedoring is, even though at some point, stevedoring touches almost everything they consume.

I know I would probably never had sought out a job in stevedoring and logistics, but now I would not work anywhere else. I love it.

I was part of a very well-managed, valuable two-year Graduate program that allowed me to see the scope of the business, develop key relationships with people that would help shape my career, and gain invaluable work experience. I am a strong believer in this style of program to bring young, new, and diverse people into a business.

Who has been the most inspiring person you have worked with and why?
The most inspiring person I have worked with is called Nikki. I met Nikki in my first year as a graduate fresh from University, and we struck up a friendship. We are still firm friends today, and she has been an amazing friend and mentor throughout my whole career. Her support and words of wisdom (sometimes very direct) have inspired me and given me the strength to truly believe in myself and my capabilities.
We use cookies on this site to enhance your user experience. By continuing to visit this site you agree to our use of cookies. Learn More