DP World opens one-stop refrigerated container facility in Sydney
Date: 27/03/2023
DP World opens one-stop refrigerated container facility in Sydney to serve growing demand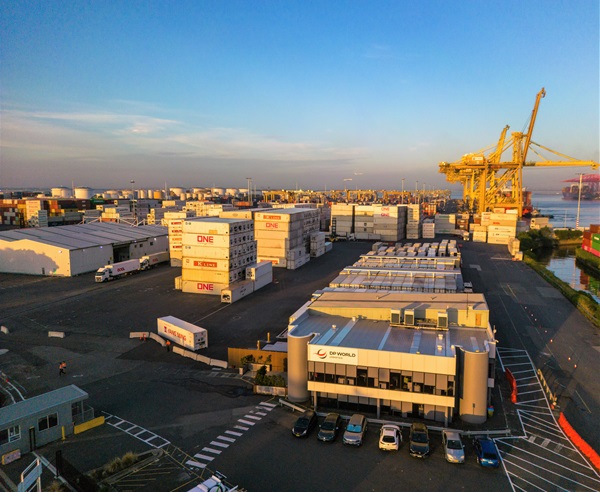 Sydney, Australia, 28 March 2023: DP World today announced the opening of Reefer World, a new one-stop refrigerated container ("reefer") facility in Sydney, which will provide a wide range of reefer cleaning and repair services to customers in Australia and New Zealand.
The dedicated reefer facility is the largest of its kind in Sydney and one of the biggest in Australia, offering various reefer solutions, such as pre-trip wash, inspection, and structural repairs, to enhance efficiency and ensure the quality and freshness of perishable cargo delivered to destinations around the globe.
With the opening of this state-of-the-art facility, DP World is doubling its capacity to supply empty reefers, with the ability to pre-trip and wash more than 100 reefer containers daily and capture growing demand for exports from key markets including Brisbane and Melbourne, and also in New Zealand covering Auckland and Tauranga.
Reefer World's strategic location adjacent to the DP World Sydney Terminal provides customers not just with seamless access to end-to-end solutions but also quicker turnaround time through coordinated container movement, cleaning, repairs, customs clearance, and storage services. The mega logistics park in Port Botany is well-connected to motorways and has an on-dock rail siding improving rail access into and out of the terminal.
The announcement follows key investment and initiatives by DP World as part of its ongoing strategy to grow and strengthen its operations in Australia.
Andrew Adam, CEO, DP World Australia, said: "As businesses continue to build greater agility, reliability, and resilience into their supply chains, Reefer World will help to facilitate the timely and efficient flow of perishable goods while addressing increased export demands in the region. Its completion further expands DP World's footprint as one of the largest container terminals and logistics park operators in Australia and cements our position as the go-to partner for customers requiring innovative, agile and scalable end-to-end logistics solutions".
- END -
ABOUT DP WORLD
We are the leading provider of worldwide smart end-to-end supply chain logistics, enabling the flow of trade across the globe. Our comprehensive range of products and services covers every link of the integrated supply chain – from maritime and inland terminals to marine services and industrial parks as well as technology-driven customer solutions.
We deliver these services through an interconnected global network of 295 business units in 78 countries across six continents, with a significant presence both in high-growth and mature markets. Wherever we operate, we integrate sustainability and responsible corporate citizenship into our activities, striving for a positive contribution to the economies and communities where we live and work.
Our dedicated, diverse and professional team of more than 97,600 from 158 nationalities are committed to delivering unrivalled value to our customers and partners. We do this by focusing on mutually beneficial relationships – with governments, shippers, traders, and other stakeholders along the global supply chain – relationships built on a foundation of mutual trust and enduring partnership.
We think ahead, anticipate change and deploy industry-leading digital technology to further broaden our vision to disrupt world trade and create the smartest, most efficient and innovative solutions, while ensuring a positive and sustainable impact on economies, societies and our planet.
In Australia, we are one of the largest container terminal and logistic park operators, with strategic locations in Brisbane, Sydney, Melbourne, and Fremantle. We leverage our global network's expertise and scale to offer unrivalled value and opportunities to our customers and partners to create a clear pathway through the global supply chain.
Our nearly 2,000 employees in Australia are all dedicated to building a business characterised by seamless connections, restless innovation, future of trade, and access and agility.
We use cookies on this site to enhance your user experience. By continuing to visit this site you agree to our use of cookies. Learn More