DP World Melbourne's Record-Breaking Container Exchange
Date: 29/06/2020
DP World Melbourne's record-breaking container exchange at West Swanson
Our West Swanson terminal has handled Australia's largest-ever exchange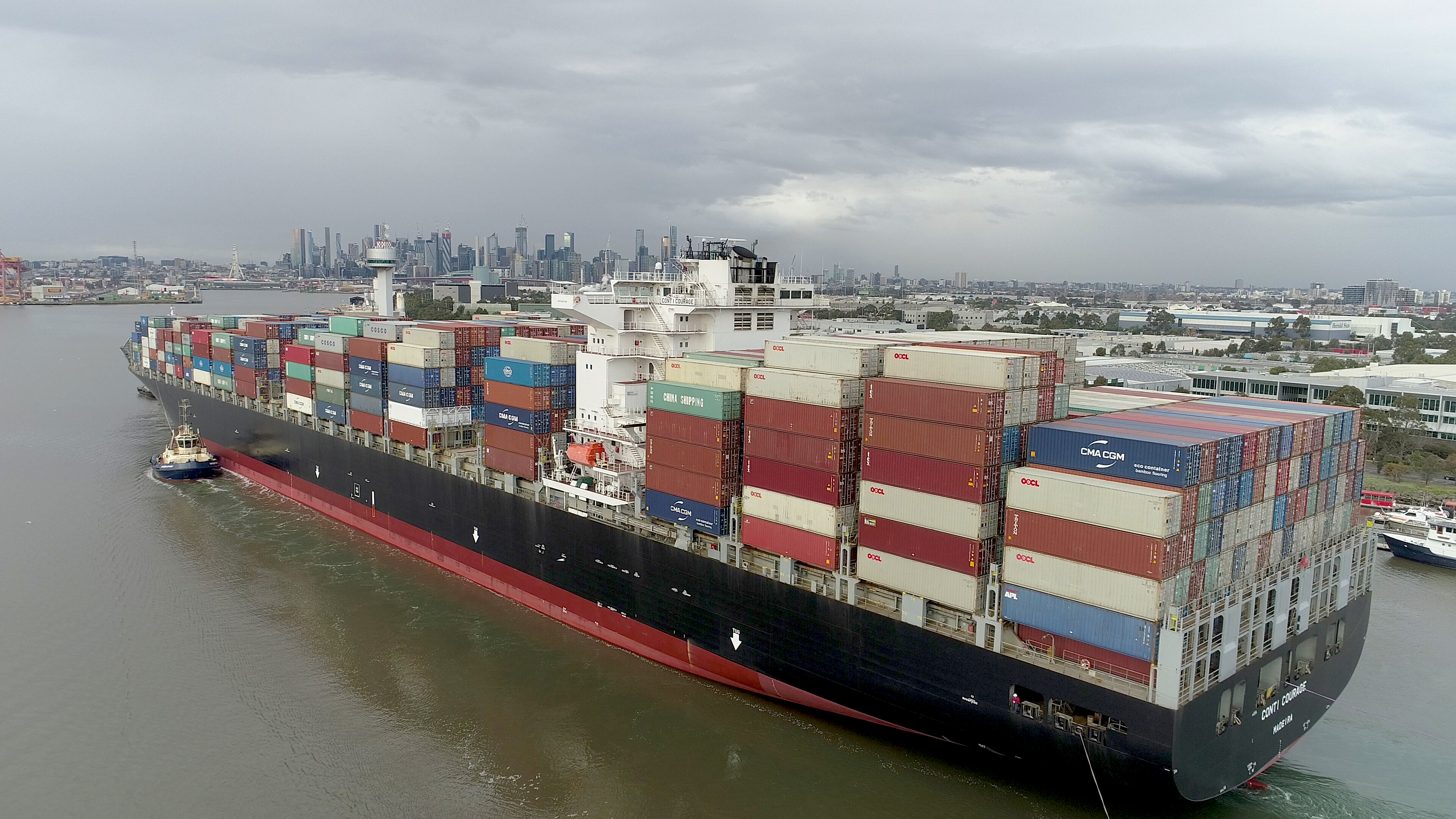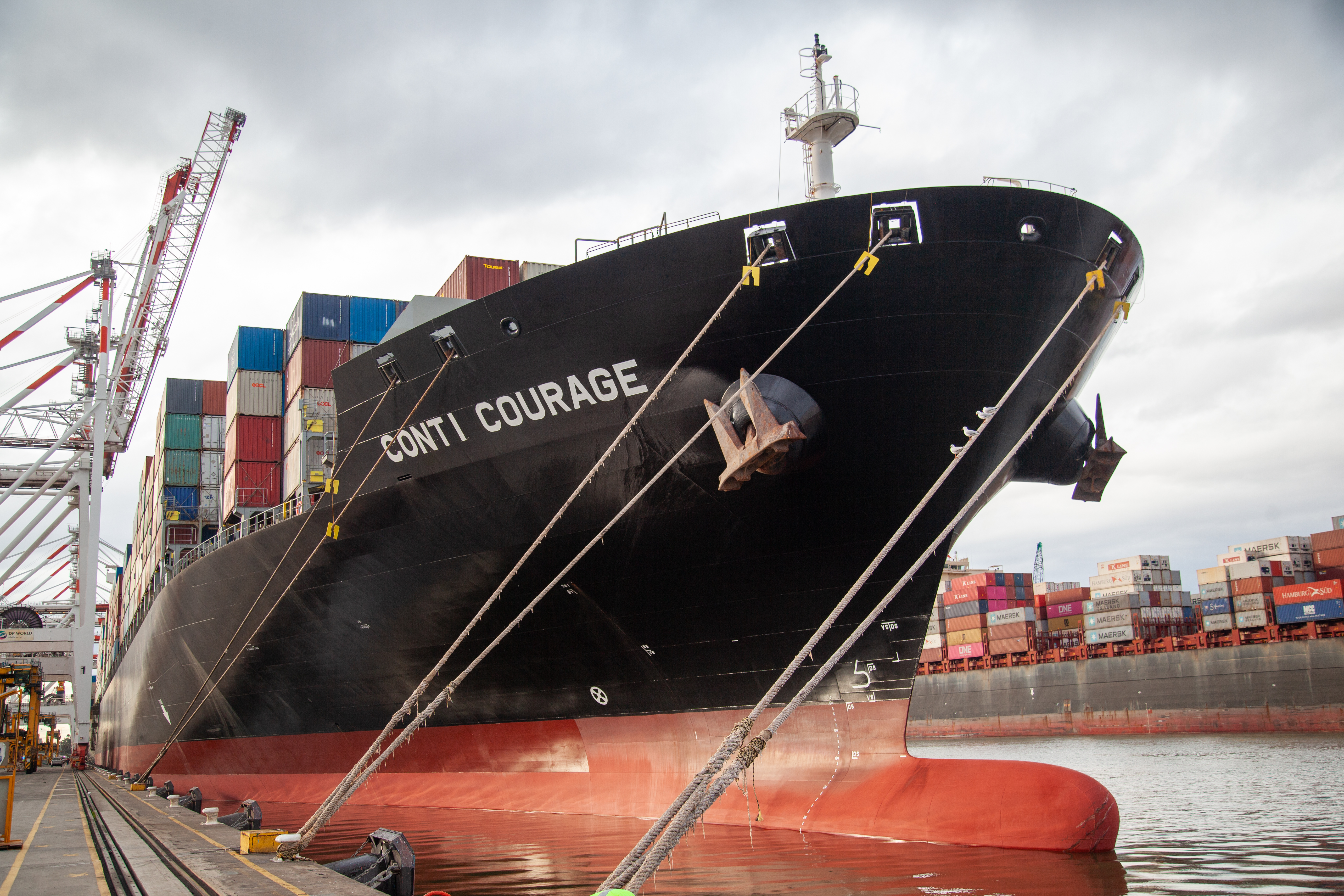 Melbourne, Monday 29 June 2020: DP World's Melbourne terminal has handled a record TEU exchange of 7,826 on vessel the Conti Courage, beating the previous Port of Melbourne and DP World record in Australia of 7,762 TEU's.
The milestone service of the Conti Courage also saw 5,261 container moves, an Australian record, which surpasses the Port of Melbourne's previous record of 4,629 exchanges by 12 per cent.
The Conti Courage is also the longest vessel to ever berth at DP World's Melbourne terminal, measuring 334 metres long, 42.83 metres wide and with a nominal capacity of 8,084 TEU. It is 28 metres longer than the previous record.
Both TEU and move exchange records were previously achieved by DP World's Melbourne terminal when servicing the Cosco Felixstowe in September 2019.
Andrew Adam, DP World Chief Operations Officer, Australia said:
"Not only is this DP World's largest container exchange in Australia, this is also the largest exchange that has ever been handled in Australia. Our record-breaking form is a testament to our industry-leading expertise, skill, and capacity. We are always ready to support our customers and enable trade to flow through our terminals."
Sean Jeffries, General Manager of Operations at DP World Melbourne said:
"The arrival of the 334 metre-long Conti Courage at our West Swanson Dock terminal follows a series of successful simulations and trials assessing whether these larger vessels can safely navigate Port Phillip Heads.
"Berthing vessels of this size at West Swanson, with its direct rail access, will help improve the efficiency, safety, and productivity of our freight movements, and will benefit Australia's regional producers."
The Conti Courage berthed in DP World's Melbourne Terminal on 25 June after embarking on its voyage from North Asia via Australia's east coast.
DP World's Melbourne terminal is located at the Port of Melbourne, Australasia's largest maritime hub for containerised, automotive and general cargo. At 49 hectares, it is the largest container terminal operated by DP World in Australia.
About DP World
We are the leading provider of smart logistics solutions, enabling the flow of trade across the globe. Our comprehensive range of products and services covers every link of the integrated supply chain – from maritime and inland terminals to marine services and industrial parks as well as technology-driven customer solutions.
We deliver these services through an interconnected global network of 127 business units in 51 countries across six continents, with a significant presence both in high-growth and mature markets. Wherever we operate, we integrate sustainability and responsible corporate citizenship into our activities, striving for a positive contribution to the economies and communities where we live and work.
Our dedicated, diverse and professional team of more than 56,000 employees from 134 countries are committed to delivering unrivalled value to our customers and partners. We do this by focusing on mutually beneficial relationships – with governments, shippers, traders, and other stakeholders along the global supply chain – relationships built on a foundation of mutual trust and enduring partnership.
We think ahead, anticipate change and deploy industry-leading technology to create the smartest, most efficient and innovative trade solutions, while ensuring a positive and sustainable impact on economies, societies and our planet.
We use cookies on this site to enhance your user experience. By continuing to visit this site you agree to our use of cookies. Learn More