Andrew Adam CEO of DP World in Australia appointed as member of Australian Logistics Council Board of Directors
Date: 26/05/2022
CEO Andrew Adam appointed as member of ALC Board of Directors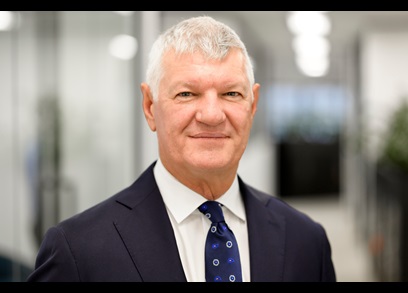 Sydney, 27 May, 2022: Following a long standing partnership and member of the Australian Logistics Council, we are pleased to announce Andrew Adam, CEO of DP World in Australia has been appointed as an official member of the Australian Logistics Council Board of Directors.
The ALC is the peak governing body representing key Logistics members across the Australian end to end supply chain. With a focus on supply chain efficiencies across rail, road, sea and air, the Australian Logistics Council supports advocacy initiatives for improved productivity, safety, and infrastructure to support Australia's economic growth. ALC's focus on these key issues, combined with a partnership with all levels of government, ensures challenges spanning across the entire logistics and supply chains sector are considered in investment and policy regulation and decisions to enable a more seamless and efficient and supply chain.
The appointment of Andrew Adam as a member of the Australian Logistics Council Board of Directors cements DP World's position in Australia as a leading Logistics provider. Despite ongoing challenges and volatility in the supply chains globally, DP World has continued to perform strongly through consistent operational performance and service reliability. Andrew Adam has demonstrated DP World's resilience and commitment to servicing the Australian market over the past two years, by providing ongoing reliable access across the supply chain.
Andrew Adam brings more than 20 years' experience in the global and Logistics sector, spearheading multiple business improvement initiatives, generating significant revenue, enhanced productivity, and efficiencies. On his appointment, Andrew Adam said,
"I am honoured to have been appointed as member of the Australian Logistics Council Board of Directors. The ALC plays a critical role in identifying opportunities to address the challenges of the industry, and I look forward to supporting our partners and contributing to ALC's initiatives to build a more efficient and resilient supply chain".
About DP World
We are the leading provider of worldwide smart end-to-end supply chain logistics, enabling the flow of trade across the globe. Our comprehensive range of products and services covers every link of the integrated supply chain – from maritime and inland terminals to marine services and industrial parks as well as technology-driven customer solutions.
We deliver these services through an interconnected global network of 295 business units in 78 countries across six continents, with a significant presence both in high-growth and mature markets. Wherever we operate, we integrate sustainability and responsible corporate citizenship into our activities, striving for a positive contribution to the economies and communities where we live and work.
Our dedicated, diverse and professional team of more than 97,657 from 158 nationalities are committed to delivering unrivalled value to our customers and partners. We do this by focusing on mutually beneficial relationships – with governments, shippers, traders, and other stakeholders along the global supply chain – relationships built on a foundation of mutual trust and enduring partnership.
We think ahead, anticipate change and deploy industry-leading digital technology to further broaden our vision to disrupt world trade and create the smartest, most efficient and innovative solutions, while ensuring a positive and sustainable impact on economies, societies and our planet.