The Middle East: Meeting Point or Battleground?: Davos 2023 Session Recap
DP World |
24/01/2023
As a region, the Middle East has endured its share of political infighting, social discord and conflict. But does a new era of cooperation offer today's youth hope for a more stable and prosperous future?
While not insulated from global polarisation and concerns about economic welfare in the wider world, the region has huge potential that could be unleashed.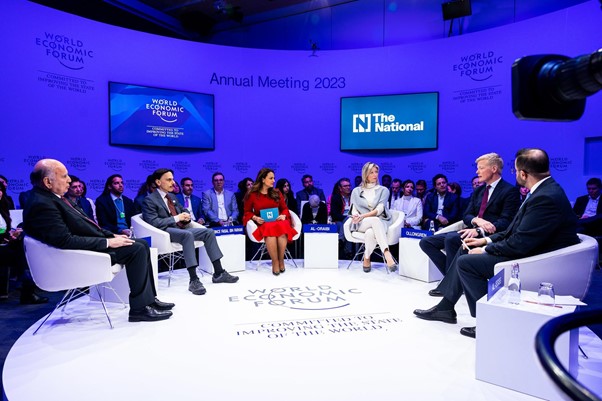 Speakers at the Middle East: Meeting Point or Battleground? session at Davos 2023
Speaking at a panel session on Wednesday 18th January at the World Economic Forum Annual Meeting in Davos, H.H. Prince Faisal bin Farhan Al Saud, Minister of Foreign Affairs of Saudi Arabia, expressed his optimism for the Middle East's future.
"We have clearly taken a decision to be a bridge for the East and the West and there is a lot of positive activity going on in the region, even with some of the challenges that we continue to face," he said.
Investments, partnerships and cooperation between states are helping put the region on a more stable – and sustainable – development path, which both boosts economic prosperity and is an attractive proposition for investors keen on developing international links and partnerships.
"The past decade taught us that the spillovers of insecurity in one area spread very quickly to others, and we all stand to benefit from ensuring that the future is brighter," Mohamad Al-Ississ, Minister of Finance of Jordan, told the audience.
At DP World, we have long been investing in the Middle East's trade potential by developing state-of-the-art trade and logistics facilities, such as our flagship Jebel Ali port and JAFZA free zone in the UAE .
Digitally-enabled smart facilities like these have helped turn our Middle East logistics hubs into a trade bridge linking east and west trade routes, and connected remote communities in Africa and beyond with international trade networks.
These investments include a responsibility to protect the planet. Our chairman and CEO Sultan Ahmed bin Sulayem, recently announced a $500 million commitment to decarbonise DP World's global operations, in an effort to reduce carbon dioxide emissions by 700,000 tonnes over the coming five years.
We use cookies on this site to enhance your user experience. By continuing to visit this site you agree to our use of cookies. Learn More