Reshaping supply chains can help solve the world's most pressing problems
Date: 28/02/2023
Much of the discussion at the World Economic Forum's 2023 Annual Meeting in Davos was dominated by the "polycrisis" that has us in its grip and how we make our supply chains more resilient.
The conflict in Europe and the long tail of the COVID-19 pandemic have sent inflation soaring, raised concerns about food shortages and disrupted supply chains, leaving manufacturers and suppliers struggling to source critical components they require for their businesses to function.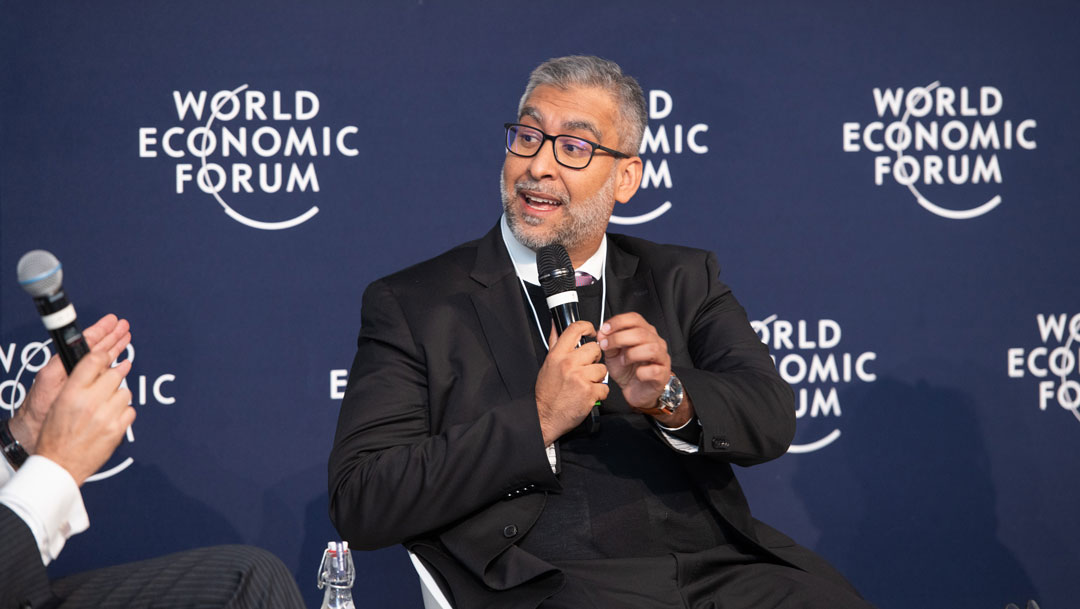 Discussing supply chain resilience at the World Economic Forum in Davos, 2023
The impact of these global crises has been felt particularly harshly in Africa – the continent's recovery from the pandemic has been slowed by inflationary pressures and a hike in borrowing costs. I'm confident Africa will rebound strongly and at DP World, we're committed to enabling trade to flow within the continent as well as connecting African markets to the wider global economy.
Technology for supply chain transparency
In a conversation hosted by the Wall Street Journal in Davos, I shared an observation that became apparent during the pandemic – organisations didn't fully understand their supply chains. There was little visibility about what was happening in real time as cargo was shipped from supplier to customer. The result was a lack of efficiency and increased costs.
For us, technology is a major part of the solution to these challenges. We are deploying advanced automated systems in our ports and right through the logistics ecosystem to enable our customers to build transparent, accessible and cost-effective supply chains. We have integrated our systems with customs processes to automate clearances and revenue collection.
Beyond just being good for the bottom line, creating efficient and technologically advanced supply chains means logistics operations become more sustainable. This is a key priority for DP World. We are committed to reducing our environmental impact and to ensuring that communities everywhere benefit from the wealth and opportunities that free-flowing trade generates.
Logistics connecting communities
Speaking at a keynote session in Davos, World Trade Organization Director-General, Ngozi Okonjo-Iweala, reminded the audience that globalised trade had lifted more than a billion people out of poverty.
At DP World, we are aware of the transformative impact trade can have when we connect communities to markets that were previously inaccessible. Consistently reviewing supply chains will be crucial to ensure the progress made in lifting people out of poverty is not reversed.
By the time I joined a panel on Logistics for Aid: Improving Supply Chain Resilience, trade was emerging as a dominant theme at Davos. It was increasingly being cited as a key solution to the global challenges that had merged into the "polycrisis".
Manufacturing moves closer to home
A major element of that reconfiguration is the shift to local manufacturing. We saw this in a humanitarian context in the pandemic when vaccine manufacturing centres were established in Africa to speed up supply.
Now we are seeing nearshoring across industries and geographies as the supply chain mindset shifts from just in time – to – just in case.
How we handle this shift, and the motivations for it, will be critical to ensuring we develop the resilient supply chains the world needs. As a strategy for reducing the risk of catastrophic supply chain shocks, nearshoring makes sense and we support those engaged in this shift.
But there's another force influencing decisions on the reconfiguration of supply chains and that is protectionism. If we reshape our supply chains in response to high tariffs and insular trade policies, we risk splitting the world into distinct east/west trading blocs.
In Davos, there was a broad consensus that going down the protectionist route will add to logistics costs and cause further disruption to supply chains that have already proved so brittle.
After many hours of discussion with leaders from industry and government, I left Davos recommitted to my belief that we must all work together towards a common solution.
Rather than becoming more divided, we must form and build on partnerships that leverage our combined strengths to build supply chains that reunite our fragmented world and support the development of our communities.