Container Terminals Deurganckdock join forces for rail transport
Date: 08/09/2020
Terminal operators DP World Antwerp and MPET join forces to intensify the use of rail transport. Thanks to a new collaboration, both companies will be using a joint rail infrastructure at the Deurganckdock for the import and export of containers via rail. A big step forward in terms of sustainability and mobility. The first container was exchanged on Monday 7 September in the presence of both partners and representatives from the Port of Antwerp.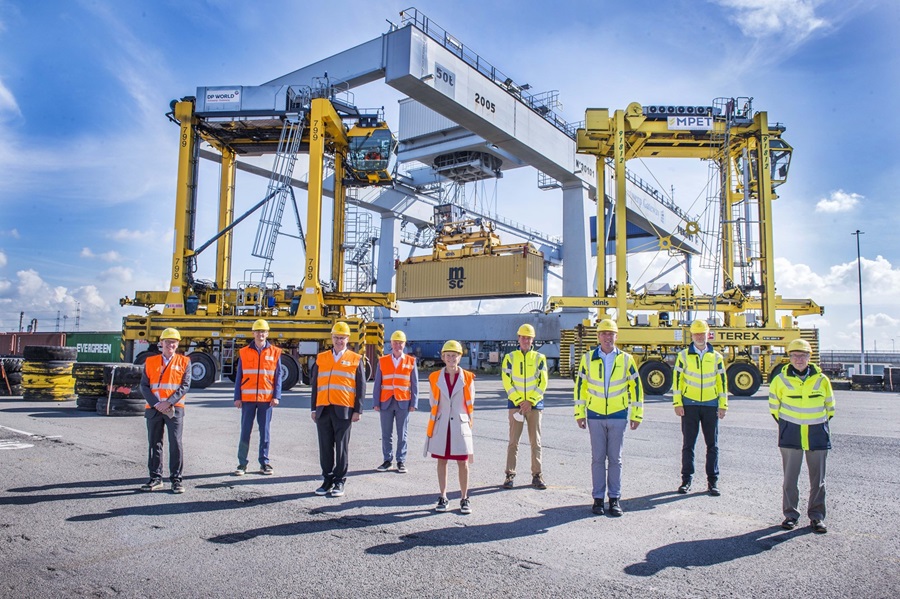 Shared use of rail infrastructure
MSC PSA European Terminal (MPET) and DP World Antwerp both operate a container terminal at the Deurganckdock in the Waasland Port. The east side of MPET (quay 1718), has no own rail infrastructure whereas the adjacent DP World terminal (quay 1700) does have a direct rail connection. In order to also enable rail transport directly to and from the east side of MPET, DP World and MPET joined forces to cooperatively use DP World's rail infrastructure. For this purpose, a new container transfer zone, a 'rail buffer' has been created at MPET where import and export containers for rail transport can be exchanged.
Prime example of collaboration
The cooperation between the two terminal operators is an important step forward with regards to mobility and sustainability in the port of Antwerp. The initiative is in line with the port's ambition to increase container transport by rail: from the current 8% to 15% by 2030. Both terminals aim to increase the frequency of existing rail products and develop new connections with the hinterland. The agreement is a prime example of a tailor-made collaboration to cope with the growth of the port of Antwerp. By optimizing the existing capacity, this initiative ensures further growth of the port and intermodal transport.
Jan Meynen, Head of Operational Services MPET: 'Thanks to this new rail buffer at MPET East, we can avoid the transport of containers from the east side of MPET to the west side, where our current rail infrastructure is located. This benefits sustainability and, at the same time, also frees up capacity at MPET West for additional rail transport.'
Steve Declercq, Chief Business Officer DP World Antwerp: 'With this far-reaching operational cooperation, DP World Antwerp Gateway aims to increase the frequency of existing and future rail products."
Transfer zone for containers
The new rail buffer comprises a closed transfer zone with space for 100 TEU (container units) on the MPET concession, where DP World and MPET can pick up and drop off containers using straddle carriers (container lifts). These containers are exported and imported by rail at the DP World concession for both terminal operators. The coordination of the two different operational systems required a lot of coordination with regards to safety, security, civil works, IT and customs. 'Over the past year we have worked intensively together with a very good mutual understanding. That's how it should be in the port. It is an example of two important stakeholders working together for the benefit of the whole community', says Tony Filibert, Chief Commercial Officer DP World Antwerp.
Lars Koch, Commercial Manager MPET: 'This operational collaboration is an example of Antwerp's 'can-do' mentality and its collective commitment to sustainable progress. Creating additional rail capacity also fits within our ambition to further develop and expand direct rail connectivity to the Hinterland, so that cargo owners, importers and exporters can organize their cargo flows even more efficient.'
First container exchange
On Monday 7 September, the first container was exchanged between MPET and DP World Antwerp in the presence of DP World Antwerp CEO Dirk Van den Bosch, MPET CEO Harold Kunst and Annick De Ridder, Port of Antwerp alderwoman.
Annick De Ridder, port alderwoman: "This collaboration between MPET and DP World gives concrete form to Port of Antwerp's ambition to transport more containers by rail. The project contributes to a better mobility and a more sustainable port while at the same time making the port of Antwerp even more attractive to customers".
We use cookies on this site to enhance your user experience. By continuing to visit this site you agree to our use of cookies. Learn More