Thames Freeport launches commercially with film on business, logistical and environmental benefits
Date: 06/09/2021
​Thames Freeport will formally open for business this month, marked by the launch of a new film which brings to life the benefits of locating in the new economic zone at the heart of Europe's biggest consumer market.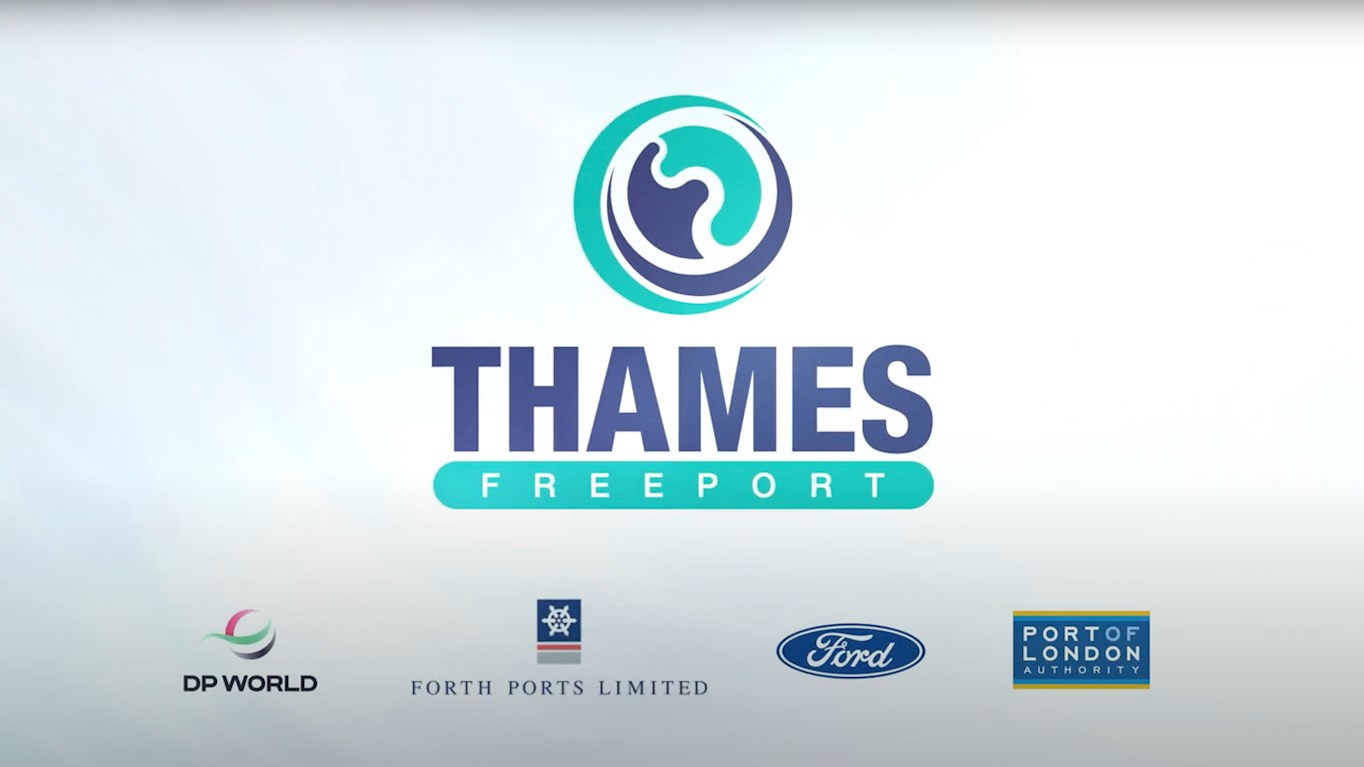 The film, produced by Cat and Weasel Films working with director Joshan Esfandiari Martin, cinematically showcases all the elements Thames Freeport offers to allow businesses locating there to take their performance up to the next level.
No location can match Thames Freeport for access to rail, road, river and international maritime routes. Comprising Britain's most globally connected ports and logistics park and Ford's world-class engine plant, Thames Freeport represents a faster, more cost-effective, and more environmentally responsible way to service domestic and European markets.
Stuart Wallace, Chief Operating Officer at Forth Ports (owner of the Port of Tilbury and Tilbury2), said: "The formal commercial launch of Thames Freeport is a major milestone for our partner organisations who have between them invested over £2.5 billion in port and logistics infrastructure over the past 10 years, with over £3 billion of further investment planned. The UK's largest freight ferry terminal was completed in record time and opened last year at Tilbury2, demonstrating the partners' commitment and ability to deliver at pace."
Alan Shaoul, Chief Financial Officer at DP World in the UK (owner of the port and logistics park at London Gateway), said: "Thames Freeport offers outstanding financial incentives, potentially the equivalent of up to 50 per cent of the cost of the real estate over five years. These include no stamp duty on land purchases, savings on employer national insurance contributions, a five year business rates holiday and generous capital allowances on investment. The flexibility within the freeport's customs zone will also help manage non-tariff barriers, supporting businesses trading with the EU and the rest of the world."
Martin Everitt, Plant Manager at Ford UK in Dagenham, said: "We are proud to partner with Thurrock Council – which is consistently ranked in the top five per cent of Local Planning Authorities for speed in dealing with applications – and with the London Borough of Barking and Dagenham, where Ford Dagenham is located. Both authorities share our vision for turbo-charging a high-tech industrial base along the Thames Estuary, with new employment opportunities and investment in skills and life-long learning."
Robin Mortimer, Chief Executive at the Port of London Authority, said: "Through the Port of London Authority, the tidal Thames connects all freeport sites to the consumer markets of London and the South East, creating the infrastructure for an innovative and green trading corridor. We are determined to play a leading role in the journey to net zero."
Thames Freeport's formal commercial launch will take place at an event at The Savoy Hotel, London, in the presence of a senior cabinet minister on Wednesday 15th September.
The Thames Freeport partners are progressing the business case with the Government, with a view to receiving formal accreditation this year.
See the Thames Freeport website / Twitter / LinkedIn pages for more information.
Contact details:
For more information about the Thames Freeport contact
Tony Lodge: tonylodge@newcenturymedia.co.uk / 07545 697565
John Stevenson: john@ti-communications.co.uk / 07824 621756
Notes:
Thames Freeport benefits include:
£5.1 billion additional GVA
Over £4.5 billion in new public and private investment
25,000+ new jobs with many more across supply chains, with significant investment in training and skills
1,700 acres of development land – much with planning consent
£400 million port investment into some of the most deprived areas
20% of the UK's most deprived communities are in London and the South East
Freeports are in our DNA – DP World began as a free trade zone in Jebel Ali, while Tilbury was a freeport until 2012.
DP World and Forth Ports are progressing a Thames Freeport, with London Gateway, the Port of Tilbury, Ford Dagenham and the Thames Enterprise Park (TEP) at its heart – highlighting the role of the River Thames in a prosperous, global Britain. TEP will be a customs sub-zone.
The Thames Freeport will allow Ford to transition to a future of automated, connected, electric vehicles.
The Thames Freeport is backed by local MPs, alongside the Association of South Essex Local Authorities, Barking and Dagenham Council, Basildon Council, Be First, Brentwood Council, Castle Point Council, Essex Chamber of Commerce, Essex County Council, Havering Council, London First, Opportunity South Essex, the Rail Freight Group, Rochford Council, Southend Council, the ThamesEstuary Growth Board, Thurrock Business Board, Thurrock Council and the South East LEP.