The Necessity of Port-Centric Logistics
Date: 01/05/2021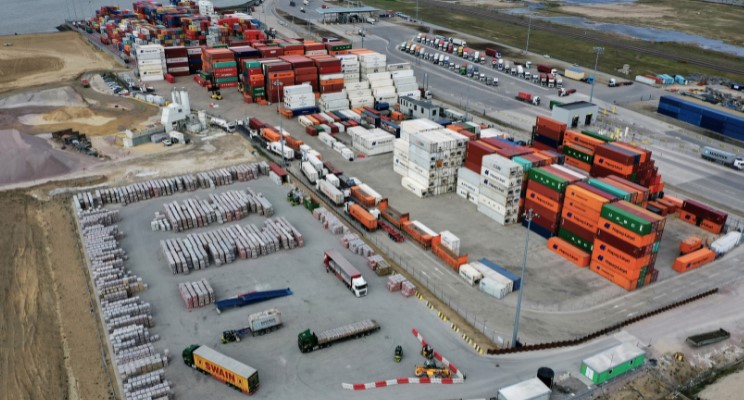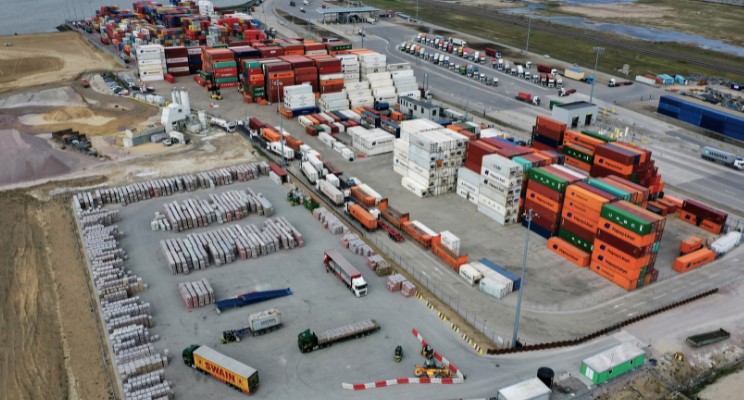 This week, DP World in the UK is announcing our latest agreement with a business looking to save time, spend less and reduce carbon emissions in their supply chain. The leading road transport operator Swain Group is set to operate a 2.25 acre distribution centre just 200 yards from London Gateway's berth 7.
Under the three year agreement, Swain Group will use the quayside site for the temporary storage of imported construction materials such as stone. They will also undertake 'next generation' offsite manufacturing to construct buildings faster, more safely and to a higher quality before their onward distribution to the end customer by lorry.
Distribution plans like Swain Group's are vital for business growth. With 32% of England's population living in London and the South East alone, too many companies are wasting resources moving goods up from the South coast to the Golden Triangle, only to have to move them back down again to get to shop floor.
Port-centric logistics solutions at London Gateway solve this problem.
Our deep water port and freight rail terminal are on the same site as our rapidly expanding logistics park, the biggest of its kind in Europe. Along with the Port of Tilbury and Ford's Dagenham plant, London Gateway will form Thames Freeport after being awarded freeport status by the Government earlier this year.
Quote Breakout:
"On arrival at the berth, DP World will shunt inbound containers to our facility, where our team will assemble outbound orders for transport via our own fleet to destinations across Britain. This integration of the supply chain will generate cost and time efficiencies both for us and our customers."
- Matthew Deer, Managing Director at Swain Group
What is more, our port-centric logistics solutions provide a level of supply chain resilience that has been typically hard to secure in the UK. As recently noted by Savills, Covid-19 and Brexit has renewed consumer concerns over the availability of vital goods on our island nation.
At London Gateway, where all domestically-consumed goods can be stored duty-free at their port of entry, our customers can essentially hold safety stock in-country with little added cost. At times of high demand or supply chain disruption, this replaces the often long lead time related to ocean transport with just-in-time capability and complete cargo visibility.
I am delighted that Swain Group has chosen to further strengthen their longstanding relationship with London Gateway and I would urge companies looking for a more efficient and secure distribution strategy to get in touch with me.
Port-centric solutions create powerful opportunities that cannot be matched by the 'landlocked' competition. DP World is offering one of the UK's only physical links in the handling chain that collaborates with sea transport, domestic transport, customers and cargo owners, all in a day's work.
It is time the cargo owners look to the ports for service beyond the container yard, and to be presented with newer and better import-to-market solutions. Demand it, make a change, or be left behind. At DP World in the UK, it is already happening.