Our approach to sustainability
From being the first UK terminal to apply a 'green charge' and investing in hybrid equipment to reduce our emissions, to our school partnerships and work with charities to reduce food waste and improve the health of our marine environment, DP World Southampton wants to ensure our operations create real-world, long-term benefits for the community around us.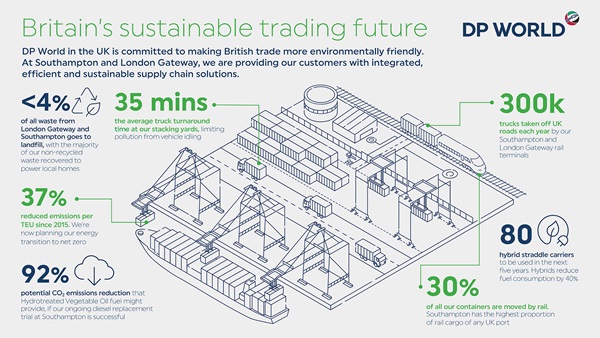 Download 'Britain's sustainable trading future' as a PDF.
Find out more about these initiatives below or download a copy of Our Approach To Sustainability booklet.
Education
Our flagship Global Education Programme engages 8-14-year-olds across all the regions we operate in. It teaches and inspires them on the topic of global trade and logistics.
Locally, DP World Southampton has built relationships with two Southampton schools. Every year, staff volunteer to deliver national curriculum approved content to over 200 school children.
The programme brings to life a whole different industry and world that the children have never seen before; especially when they are able to visit the terminal and see the scale and size of the operations first hand.
Green Charter
To support Southampton city's vision is to create a cleaner, green, healthier and more sustainable city, DP World is the first port in the UK to introduce a 'green' charge on older trucks to pick up or drop off a container. It is part of a number of measures the company is taking to help cut emissions.
Hybrid Technology
DP World has upgraded and modernised its straddle carrier fleet. More machines – which pick up and drop off the containers between the ships and road or rail – are hybrid electric machines. This has resulted in the company reducing its NOx emissions by half.
Reducing and Reuse
From quay cranes that regenerate electricity back to the grid, to tyre re-moulding which pro-longs their life and reduces waste, as well as the replacement of onsite vehicles to fully-electric, DP World is always exploring ways it can reduce its impact on the environment.
Cleaning up Our Waterways
In collaboration with Hampshire Wildlife Trust, DP World has funded the installation of two seabins helping the fight against plastic pollution in our local waterways.