LOGISTICS

Related content

DP World Cargospeed in partnership with Virgin Hyperloop will enable fast, sustainable delivery of cargo around the world.

Read more

Our full service freight forwarding solutions work hand-in-hand with our intercontinental shipping network and our roster of global ports and terminals, making sure we solve any supply chain challenges our customers face.

Read More

TECHNOLOGY

Related content

Digital services that support shippers with tracking to ports around the world.

Learn more

Enabling cargo owners and consumers to move their goods by sea at the click of a mouse.

Learn more
Fabio Mota de Souza: A life without limits
At DP World, we are committed to creating an inclusive and diverse workforce that allows people to showcase their full potential. We believe greater diversity in the workplace fosters creativity and helps us to spark innovative thinking.

This commitment includes supporting people of determination. New technologies are opening opportunities to people in our industry who previously were marginalised due to limited physical capabilities. And no one exemplifies this positive change better than Fábio Mota de Souza, Operations Monitor at our DP World Santos terminal.

Fábio was born with physical limitation in his arms and hands. While he insists his limitations didn't affect him much through his life – not even jump rope was an issue and he is a Crossfit fan – there are some things he is unable to do, like holding heavy objects.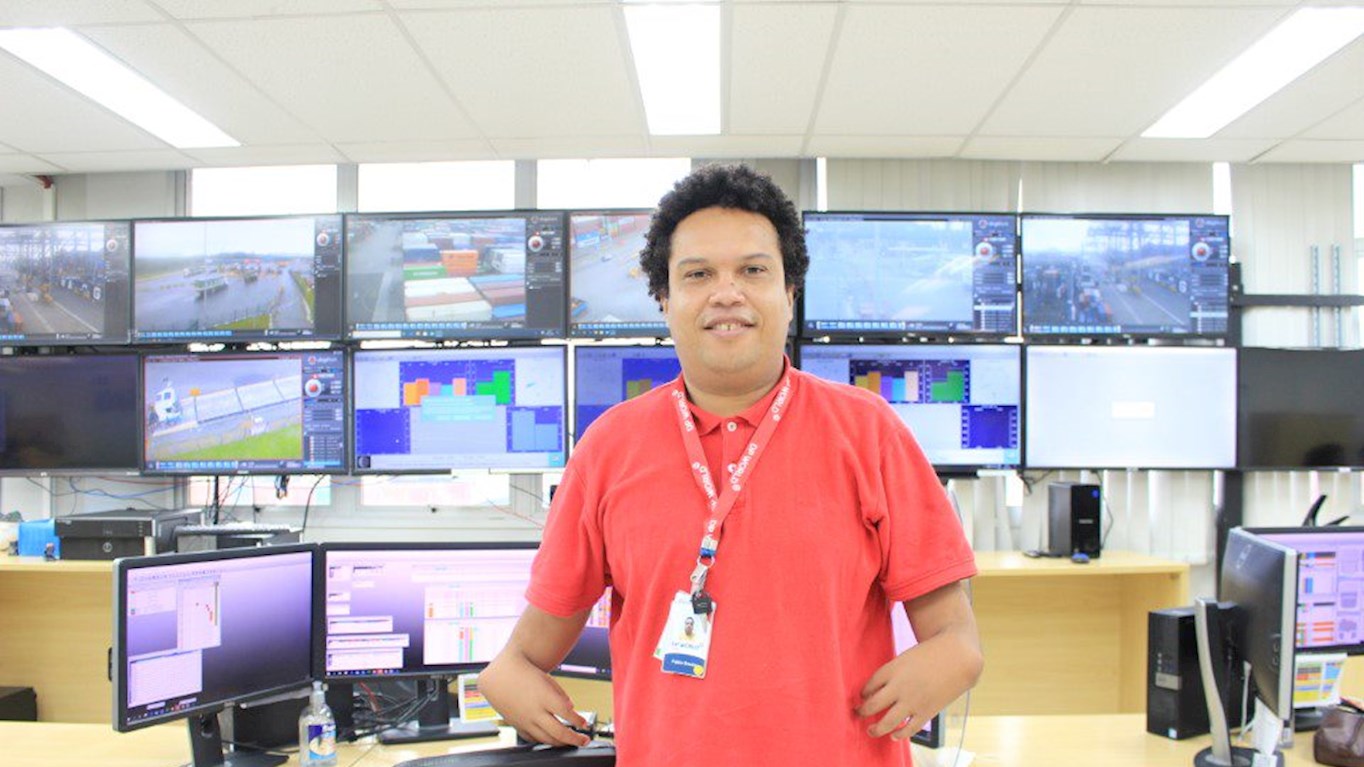 Fábio joined the DP World Santos terminal in July 2020. Having graduated in Business Administration, Fábio started his career through an internship and has worked in several roles across the port sector before securing his current role of Operations Monitor.

"If I could mention one obstacle that I overcame during my professional career, it would be the international Q-code. It's like learning a new language", says Fábio.

At the terminal, Fábio is responsible for organising the equipment in the cargo handling yards, monitoring cargo ships, and facilitating the transit of trucks. Although his driver's license extends only to the B category (which includes cars and trucks), so far Fábio's goal for the future is to become an equipment operator.

In relation to his personal life plans, Fábio is considering going back into training to become an inspiration for his young daughter Isabel. Isabel was also born with the same physical condition as Fábio. He says, "When it comes to sports, I've done a bit of everything. As a child, I never hid from Physical Education classes. I played football, volleyball, and basketball. I always push my limits with CrossFit. People looked at me differently, saying: "Wow, the guy has a limitation and does all that".

When it comes to prejudice, he says he suffered more in childhood but tried to look past it. "Even though some of the kids used to make fun of me, I had others to defend me", he recalls. "I never felt discriminated in the work environment. Quite the opposite. I have always been encouraged by my colleagues to overcome my limitations and grow within the company. Especially at DP World Santos. People support me a lot and insist on inserting me. After all, this is one of Our Principles: Make Others Excel.''
We use cookies on this site to enhance your user experience. By continuing to visit this site you agree to our use of cookies. Learn More