Ports are the primary nexus of global trade – by orders of magnitude, more goods flow through them than any other international trade hub. Period. In its most recent report on the subject, Statista.com showed 1.83 billion metric tons flow through ports each year at a collective value of $12 trillion USD. As the future of trade is shaped by technology developments like automation, blockchain and sustainable infrastructure, and consumer demand for shorter lead times on increasingly personalized offerings triggers seismic shifts across the global supply chain – one thing is more true than ever: the efficient operation of ports is central to creating that future.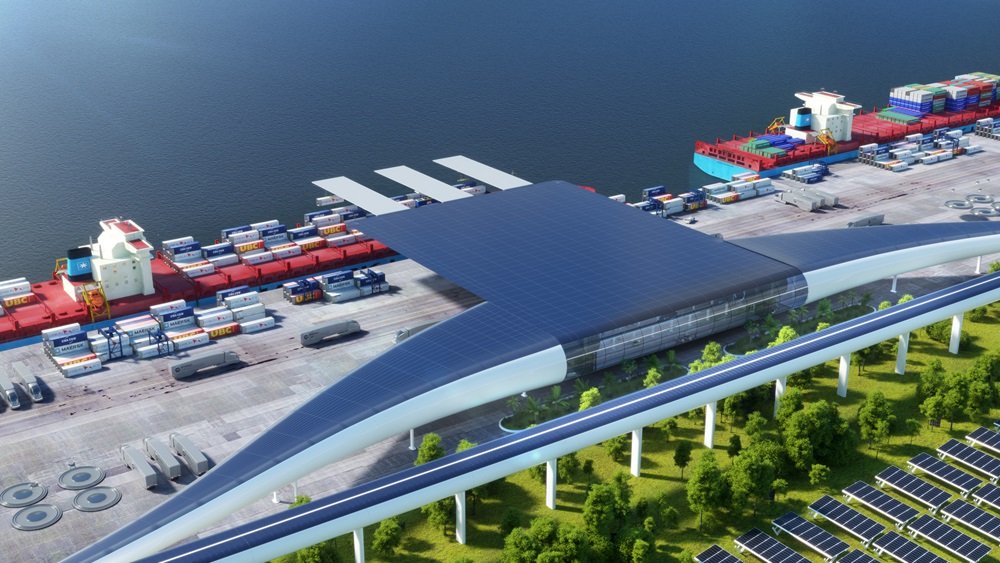 Ports are now the lynchpins in global end-to-end supply chains and are driving the improvements in the speed and efficiency of logistics operations – with an exponential impact way beyond a port's gates. As we build the future of ecommerce and logistics, we need to understand the supply chain visibility, automation and business integration that are critical for ports of today.
Visibility
During the past few decades, supply chains have already made significant steps towards improving visibility of the shipments moving through their operations. DP World's where's my container tool, for example, helps customers trace shipments from port, to truck or rail and across various cross-dock hubs in between, onward to their final destination. Cargo owners can track in real time, through a single online pane-of-glass interface, which gives them incredible visibility and the ability to navigate potential hiccups as and when they arise. But tools like this do have their limits. In a recent report, consulting firm McKinsey highlights the lack of a structured, transparent data pool, which limits the ability of ports and freight operators to track and exchange data efficiently. This needs to change.
Blockchain is one obvious solution as we search for a platform for independent, consistent data that can be instantly exchanged the world over with the highest degree of integrity. According to a recent Raconteur article, "Blockchain offers a way of securely linking the disparate systems that shippers, port operators and haulers use to record and track goods, also reducing the time spent manually re-entering data." As we move towards increasingly sophisticated integration of tracking systems, blockchain technologies have the potential to be the platform for the next generation of efficiency at ports – giving cargo owners both visibility and control.
Automation
During the next five years, at least half of all greenfield port projects will be semi- or fully automated; that's the prediction of 80 per cent of the logistics professionals surveyed by McKinsey. At DP World, we've seen the impact of automation first-hand. The crown jewels of our London Gateway operation are 12 of the largest ship-to-shore cranes in the world. They are 138m giants that can be operated remotely as they lift four 20-foot containers (or two 40 footers) at time. Because they're unmanned, these cranes can operate in almost any weather – including when high winds make it impossible for standard ports to operate. Beyond the shore, 60 automated stacking cranes load and unload around 1,800 trucks per day aided by an incredible array of sensors and automated cameras.
In Dubai, BOXBAY is being introduced as the next step in speed and efficiency at port level. Similar to elevators in a skyscraper, the system is built around a new and intelligent High Bay Storage (HBS) system - a rack structure that offers unique advantages, because containers are stored up to eleven stories high, delivering the capacity of a conventional terminal using only one third of the surface area. Fully automated, BOXBAY has direct access to every container, eliminating unpaid and unproductive reshuffling. The result are significant gains in handling speed, energy efficiency, safety and a major reduction in operating costs. Perhaps the most significant hurdle to this more automated and efficient future is talent – a sentiment reflected by three-quarters of McKinsey's respondents. To truly realize an exponentially more efficient future, it's critical for logistics companies to realise that they must invest not only in automation, but also the skills of their staff as well.
Integrated business environments
No matter how advanced and integrated a port may be, it's only as good as the economies it connects. We believe ports can and should play an active role cultivating these business ecosystems – especially those nearest to their operations. The Traders Market project by DP World is a leading example for this approach. Spanning about 800,000 square meters – with construction beginning this quarter – it's the first smart Freezone marketplace in the Middle East for retail and wholesale industries and aims to serve the wider region with a population base of more than two billion people. The market will allow traders to benefit from lower supply chain costs and greater efficiency by using the world-class multi-modal infrastructure available in Jebel Ali and Dubai.
International traders will be able to procure bulk products in Dubai at wholesale prices with the shortest delivery times and will be able to service demand more efficiently. In many ways, the port of the future is here today. However, with visibility further enabled by new technologies like blockchain, automation enhanced by an investment in talent, and integrated business environments continuing to drive economic opportunity – the coming decades will see ports continue to advance global trade and the incredible possibilities it creates.