LOGISTICS

Related content

DP World Cargospeed in partnership with Virgin Hyperloop will enable fast, sustainable delivery of cargo around the world.

Read more

Our full service freight forwarding solutions work hand-in-hand with our intercontinental shipping network and our roster of global ports and terminals, making sure we solve any supply chain challenges our customers face.

Read More

TECHNOLOGY

Related content

Digital services that support shippers with tracking to ports around the world.

Learn more

Enabling cargo owners and consumers to move their goods by sea at the click of a mouse.

Learn more
DP World Tour SEason finale
For the inaugural season of the DP World Tour, DP World launched a unique shipping container that visited several Tour events across the globe as it collected used golf balls throughout the season. The 20-foot container was equipped with real-time tracking technology, allowing fans to follow its journey across land and sea.

Over the 2022 season, the container collected over 130,000 golf balls, redistributing them and giving them a second life in grassroots golf.
Our second life container
DP World is using its expertise, assets and global network to allow the Tour to thrive as a truly global sporting competition, and supporting grassroots golf clubs throughout the world.

It's all part of a circular supply chain that's driving golf forward, made possible by the power of logistics.
Read more about DP World Logistics
Tracking the container
Our 20-foot container is equipped with DP World's Track & Trace technology, allowing us to pinpoint its location and follow its journey anywhere in the world.

This same technology enables our customers to receive real-time updates on the location of their goods, improving efficiency and reducing costs.
Learn more about Track & Trace
News highlights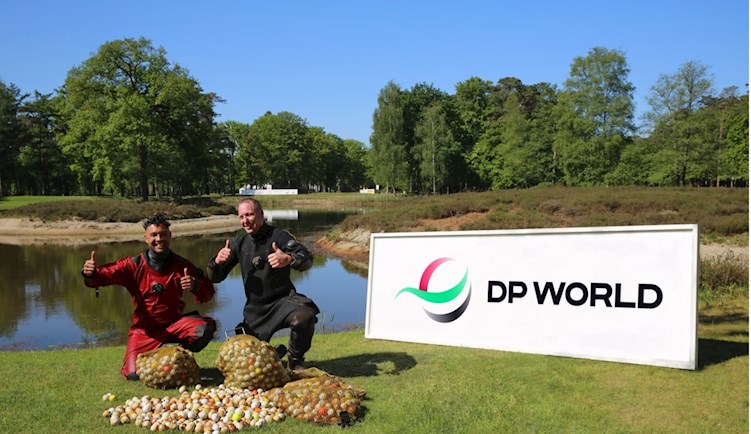 Diving for 3,500 golf balls at the Soudal Open
Local golf ball diver, Nicky Dörfel, has lent his unique talents to aid the DP World Golf Ball Container initiative, which is coll...