Partnerships offer the fastest path to a greener, lower carbon economy
Date: 21/11/2022
Decarbonising shipping is a challenge that cannot be underestimated and one that requires fundamental change across our entire industry.
The fuel consumed by commercial vessels every year makes shipping accountable for around 3% of global carbon emissions, making a strong commitment to clean energy essential. At DP World, we have started taking action, but to make progress at pace and underpin positive changes, we must work together with all of our stakeholders, governments and regulators.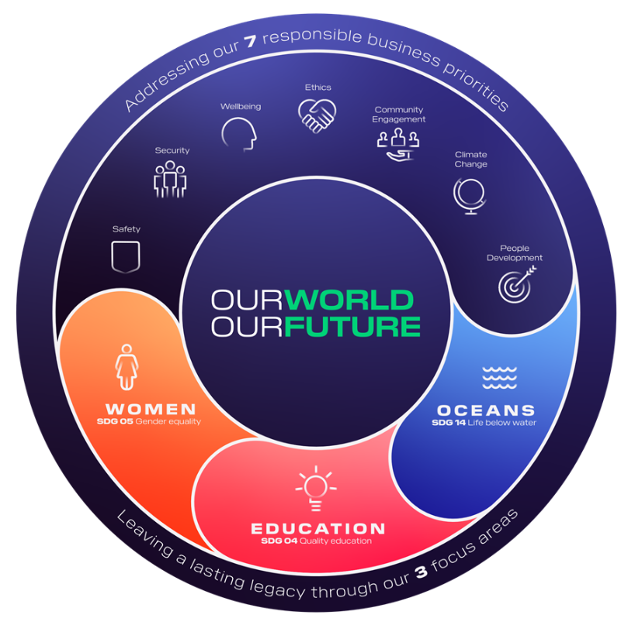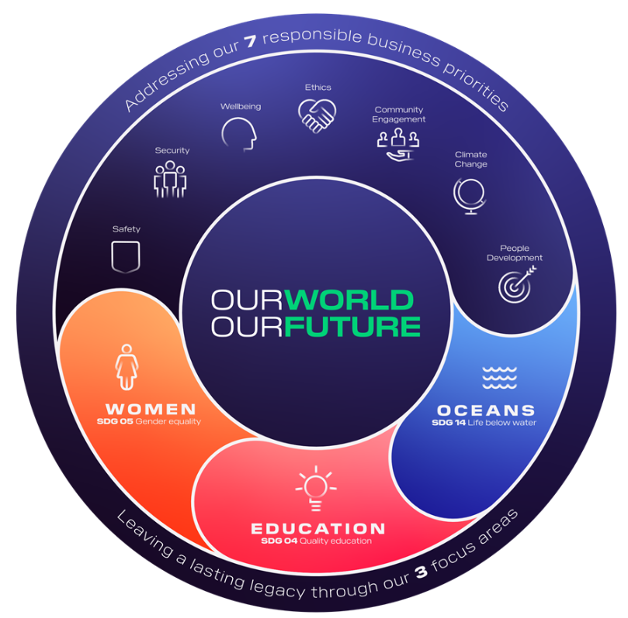 We've pledged to strive for carbon neutrality by 2040 and net zero by 2050, and we're committed to working across the industry to surmount this significant challenge, one that is set to define our time.
Our goal is to ensure the environment is protected and enhanced wherever possible. Here are five examples of the decarbonisation partnerships and initiatives we have in place:
1. Strategy to decarbonise maritime industry
We've joined forces with some of the other big names in shipping and research under the umbrella of the Maersk Mc-Kinney Moller Center for Zero Carbon Shipping. It aims to find, test and implement practical ways to decarbonise the maritime industry through alternative fuel pathways, energy efficiency and green corridors.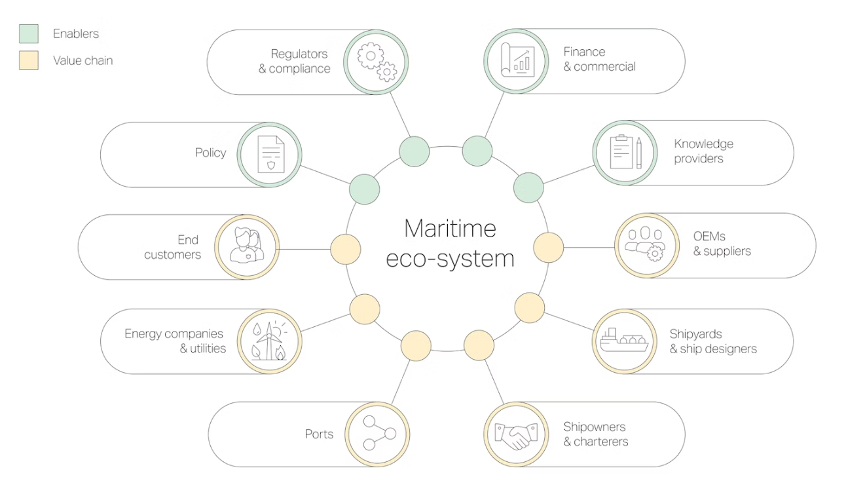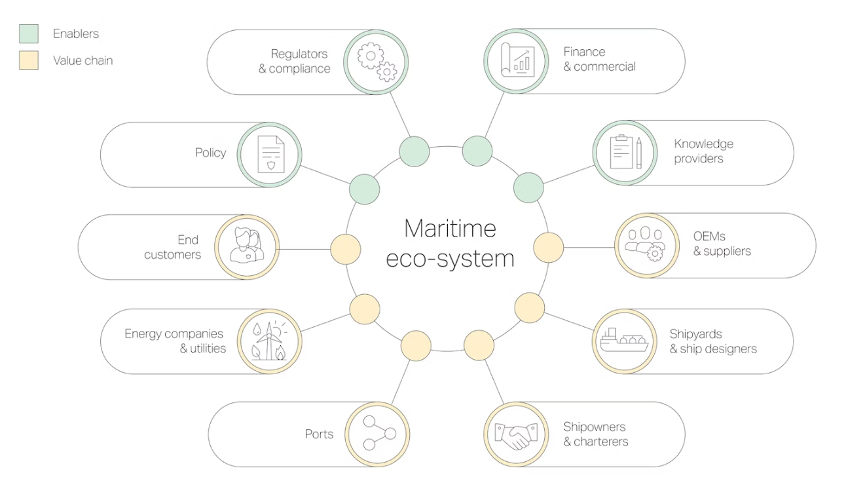 Since our business moves around 10% of global cargo, we see the benefits of involving the whole ecosystem and working with other leading organisations towards a zero-carbon economy. This initiative covers research and innovation as well as regulatory reform – something that will be vital to get us to net zero emissions.
2. Electric terminal tractors
We're also working hard to reduce and completely cut emissions that come from our operations outside of shipping, and that includes electrification of our logistics operations where possible. Zero-emission, smart and connected vehicles are key to a lower carbon future.
That's why we've invested in Britain's first ever all-electric terminal tractor and formed a partnership with Terberg, Gaussin and Kalmar to pilot electric terminal tractors at our Jebel Ali port.
3. Partnerships to accelerate action on key challenges
We're making strategic partnerships to accelerate action – like our agreement with MAN Energy Services. It will focus on green-fuels infrastructure, liquified natural gas, methanol, ammonia, hybrid drives, electric engines research and development and training, and how both parties can reduce the environmental impact of shipping traffic.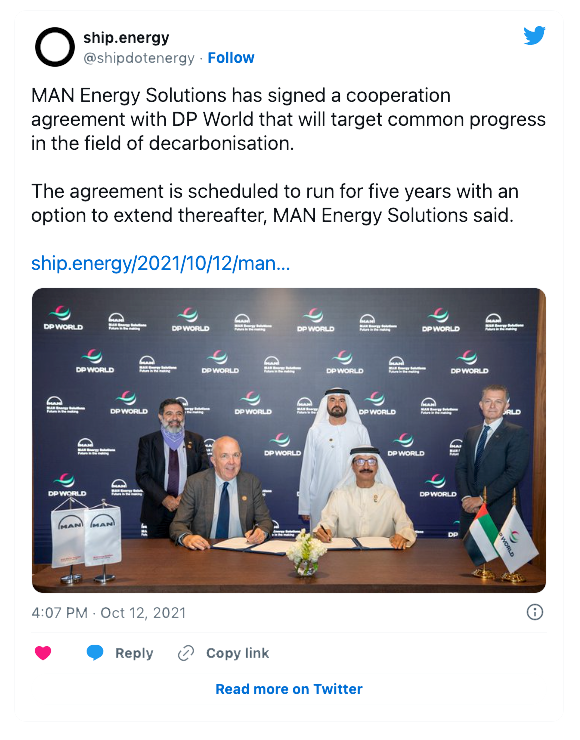 The agreement came off the back of successful previous collaborations, including exploring using 100% renewable energy in commercial shipping.
4. Funding Blue Carbon research
In the UK alone, blue carbon ecosystems – like mangroves, salt marshes and seagrasses – sequester an estimated 11 million tonnes of CO2 a year. We believe harnessing this opportunity to soak up and store carbon in marine habitats is a really exciting move forward.
That's why we've partnered with the University of Exeter and the Blue Marine Foundation to support research and reports that highlight the importance of work in this area.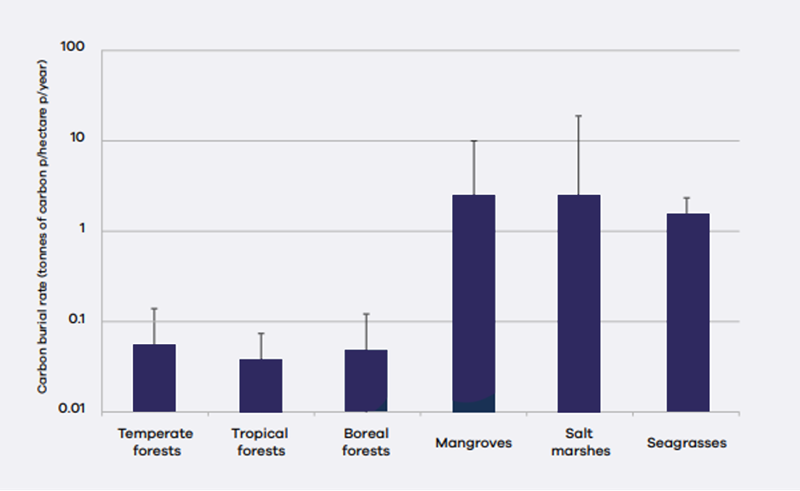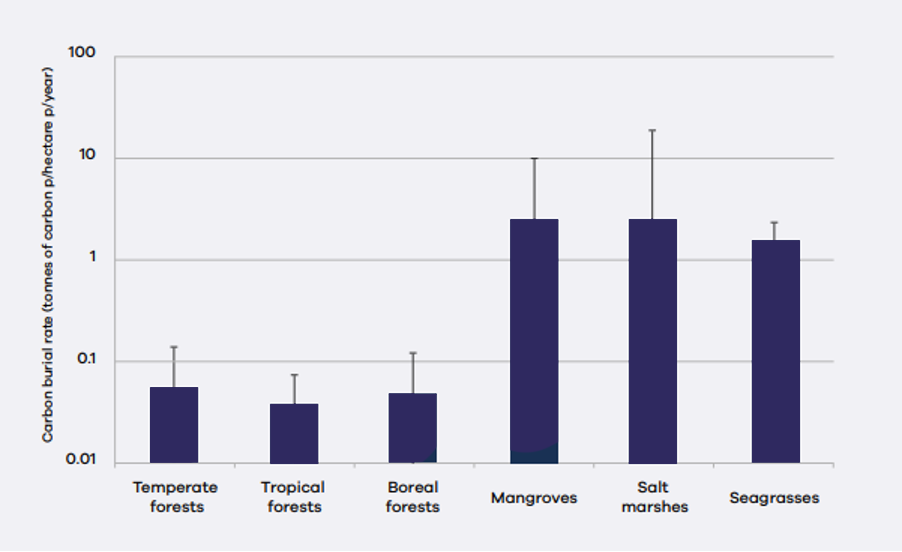 Blue Carbon ecosystems can lock away substantially more carbon than forests
5. Sea Rates platform
Our Sea Rates platform creates an online spot rate marketplace where cargo owners, freight forwarders, or consumers can find competitive rates for the transportation of their goods.
Making trade smarter in this way helps everyone to track their carbon footprint, enhance their reporting and reduce emissions. Sea Rates allows customers to pick their preferred cargo routes not only based on price, mode and distance, but also by taking into consideration the overall carbon footprint.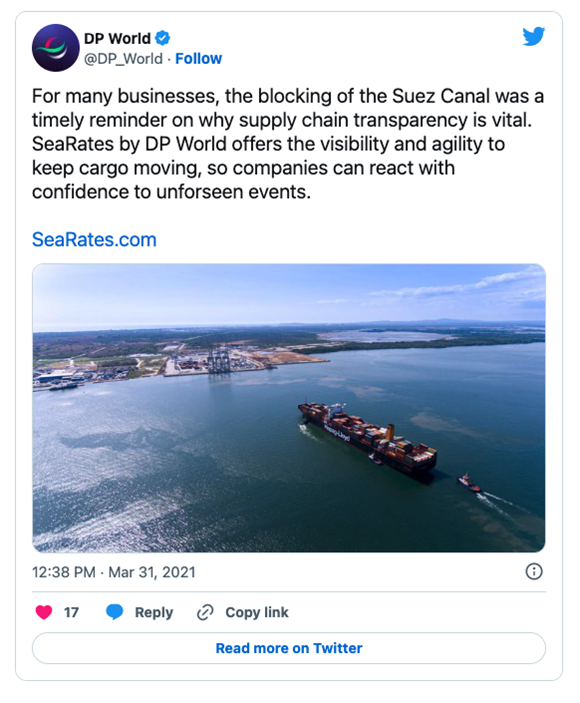 These examples underscore how much we believe in protecting our planet by enacting world-class environmental standards. Our sustainability strategy Our World, Our Future is woven into everything we do and we keep it front of mind as we plan ahead.
Accelerating the transition of our industry requires a united front and collaboration is essential. We've started by forging some partnerships with research organisations, industry associations and other stakeholders, but more is required – including efforts from governments and regulators – to effect change and set us on a clearer trajectory.
What's clear is that partnerships offer the fastest path to a greener, lower carbon economy.