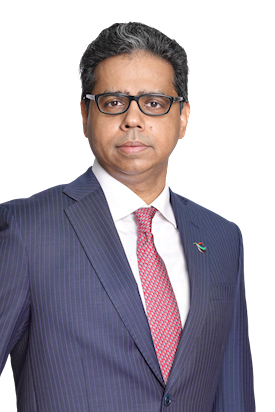 Anil Mohta
Group EVP, Corporate Finance & Business Development
Anil Mohta is the Group EVP for Corporate Finance & Business Development at DP World. He is responsible for the company's global Corporate Finance and Business Development activities.
Anil has over 25 years of experience in infrastructure finance, development, and operations, delivering growth, strengthening balance sheets, and improving returns. He has led several key initiatives at DP World, including the creation of a logistics and marine transportation division, establishing partnerships with strategic partners, and monetising assets while retaining management control. Anil has played a key role in several notable transactions, including the $7.4bn monetisation of a minority stake in Jebel Ali Port and Free Zone assets, the $9.0bn debt-raising to delist DP World, and the $8.2bn global partnership with CDPQ.
In addition to his role at DP World, Anil sits on the boards and committees of several companies, and has a successful track record of leading and motivating teams across various functions and cultures. Prior to his current role, Anil served as the regional finance head for DP World's Americas operation, and previously worked with a joint venture between APM Terminals and Government of Oman in Salalah, Oman. He is qualified Chartered Accountant.