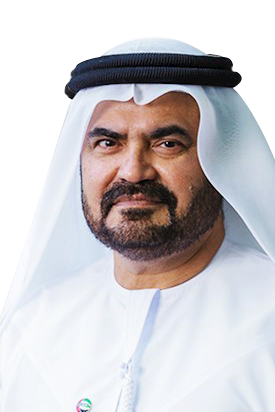 Mohammed Al Muallem
CEO & MD – UAE Region
Mohammed Al Muallem is Senior Vice President and Managing Director - UAE Region and began his current position when Dubai Ports Authority (DPA) and DPI Terminals merged to form DP World in September 2005. Mohammed joined Port Rashid in 1983 as a trainee and progressed through various positions including Planning Engineer and Assistant Port Engineer Manager.
In 1991, Mohammed was appointed Senior Technical Manager when DPA was created through the merger of Port Rashid and Jebel Ali Port. During his time at DPA, Mohammed also worked as the Deputy Technical Director, Technical Director, Chief Technical Director, and Executive Director, Technical and Technology. Mohammed was appointed Chairman of the Executive Merging Team of Dubai Ports Authority, Dubai Customs and the Free Zone in 2000 and in May 2004 became Executive Coordinator for the Terminal 2 development at Jebel Ali Port.
Mohammed has a BSc in Industrial Engineering from the University of Portland in the USA and has completed extensive training in the UK at the University of Manchester, Cranfield College and British Airways.
We use cookies on this site to enhance your user experience. By continuing to visit this site you agree to our use of cookies. Learn More