Yacht Breakbulk Operation successfully held at DP World Santos
Date: 02/10/2019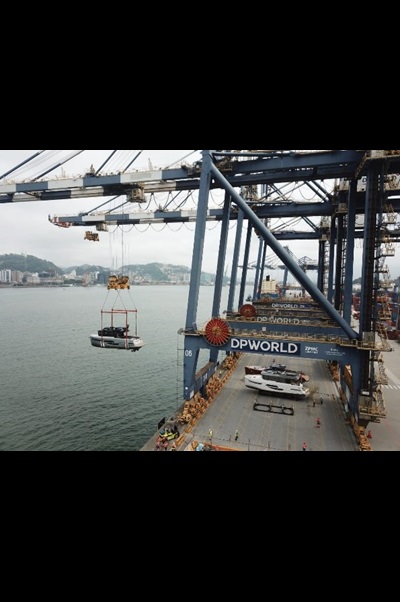 DP World Santos, one of the largest and most modern private port terminals in the country, installed on the left bank of the Port of Santos, held on September 17th a careful breakbulk operation: the handling of three yachts, which were hoisted straight from the sea to the terminal.
The sophisticated vessels weigh around 20 tons and have 16 meters in length. They were pulled out of the water by nylon slings, tied to the portainer spreader, and placed on the terminal side in metal cradles, used for this type of cargo.
The operation lasted approximately 4 hours and involved around 10 people, as well as divers who assisted in the procedure of placing slings on the yachts. The yachts were boarded on Express Brazil vessel, on the 19th of the same month, and headed to the port of Miami, USA.
About DP World
DP World Santos was created after the consolidation of the purchase of Embraport by the DP World Group (Dubai Ports World), a process that took place in December 2017. The company is responsible for the operation of one of the largest private port terminals in Brazil, left bank of the Port of Santos (SP). With investments of R $ 2.3 billion, it provides more than 800 direct jobs and 1,500 indirect jobs.
Installed in a strategic area with access by sea, road and rail, the project has 653 meters of dock, 207 thousand square meters of courtyard and capacity of annual movement of 1.2 million TEUs (unit equivalent to a container of 20 feet).
September 2019
Press information:
Gabriel Setten
+55 (13) 3213.0719
+55 (13) 99651.5194
We use cookies on this site to enhance your user experience. By continuing to visit this site you agree to our use of cookies. Learn More