Santos Port Terminals Unite and Conduct Cleaning Work at Santos Beach
Date: 02/10/2019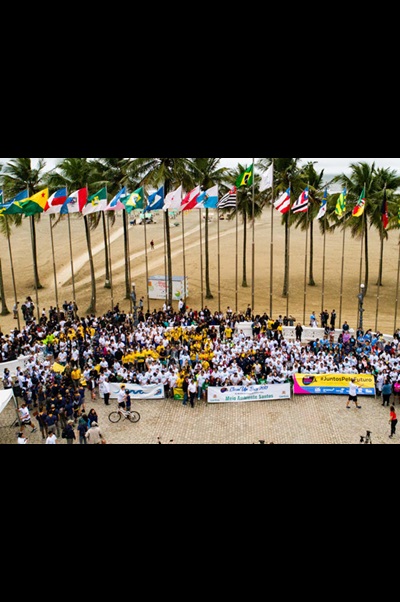 Competitors in the industry, but allied for a greater cause. It was this spirit that brought together, for the first time, the four largest port operators in the Port of Santos. This is all due to World Clean Day, known internationally as "Clean Up Day", which took place on September 21st and is part of the actions of the Go Green campaign, a global movement that aims to make companies more sustainable by promoting environmental responsibility awareness.
World Cleanup Day is linked to the 17 UN Sustainable Development Goals (SDGs) and takes place in over 150 countries. In Santos, the action has been held since 2015, with the support of DP World and Brasil Terminal Portuário. This year, the fourth edition gained even more strength with the entry of Ecoporto Santos, Ecopátio and Santos Brasil, in addition to the support of Santos City Hall, IBAMA (Brazilian Institute of Environment and Renewable Natural Resources), Mar Azul Institute , among other partners. More than 2,000 volunteers participated in the waste collection, including employees from companies, families, NGOs, students and other institutions.
The task force was concentrated in Praça das Bandeiras, in Gonzaga, where they received instructions and accessories to separate each type of waste. From there, the volunteers followed the sand strip towards Ponta da Praia. In all, about 300 kilograms of micro waste were collected, including caps and seals of drinks, straws, pieces of Styrofoam and, mainly, cigarette butts.
In this edition alone, more than 7,000 cigarette butts were collected. All material was accounted for and sent to the appropriate destination.
Dallas Hampton, CEO of DP World Santos, praises the partnership of companies and points out that, despite competition in the industry, everyone has the common goal of seeking a more sustainable world. "Through Go Green we are encouraging reflection in society. We want people to understand that small gestures can help transform the planet, "he says.
About DP World
DP World Santos was created after the consolidation of the purchase of Embraport by the DP World Group (Dubai Ports World), a process that took place in December 2017. The company is responsible for the operation of one of the largest private port terminals in Brazil, left bank of the Port of Santos (SP). With investments of R $ 2.3 billion, it provides more than 800 direct jobs and 1,500 indirect jobs.
Installed in a strategic area with access by sea, road and rail, the project has 653 meters of dock, 207 thousand square meters of courtyard and capacity of annual movement of 1.2 million TEUs (unit equivalent to a container of 20 feet).
October 2019
Press information:
Gabriel Setten
+55 (13) 3213.0719
+55 (13) 99651.5194
We use cookies on this site to enhance your user experience. By continuing to visit this site you agree to our use of cookies. Learn More