DP World Santos receives maiden voyage of the South Korean ship Robusta
Date: 16/07/2019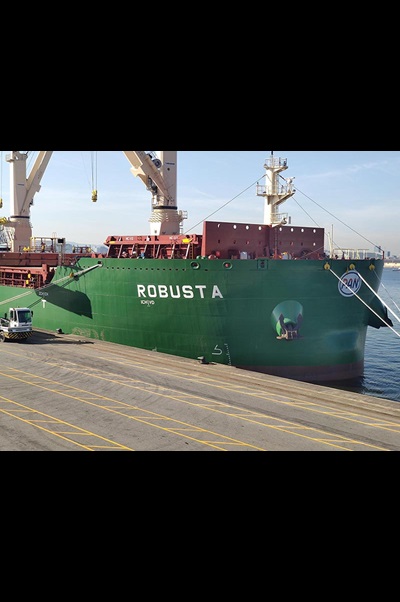 DP World Santos, one of the largest and most modern private port terminals in the country, located on the left bank of the Port of Santos, received last Saturday 13th, a maiden voyage of the Robusta ship, the South-Korean shipping company Pan Ocean.
Thrown into the sea about a month and a half ago, on May 31st, in China, the ship has came to DP World for a shipment operation of more than 10,000 tons of pulp. The vessel has capacity for more than 89 thousand tons of bulk cargoes.
The arrival was celebrated by DP World Santos. The pulp coordinator, Roberto Trimmel, welcomed the Robusta crew, delivering a commemorative plaque to the vessel's officers.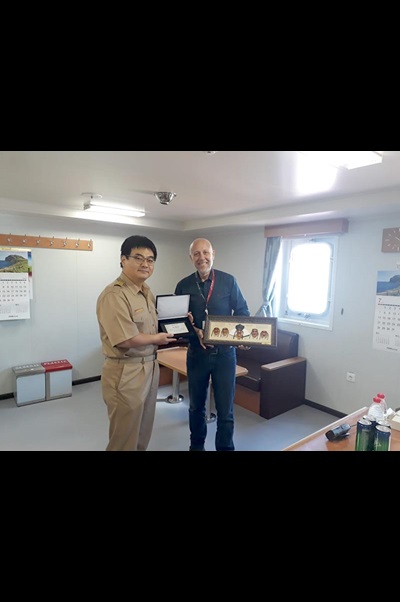 The cargo shipped was produced by Suzano Celulose S.A., a Brazilian company and leading global manufacturer of pulp. Suzano has a contract with Pan Ocean for 25 years, to transport its pulp until 2039 from Brazil to ports in Europe, Asia and North America.
DP World Santos also has a partnership with Suzano, which consists in the storage and operation of port logistics for exporting its pulp in the Santos complex. The agreement also provides the expansion of the terminal quay, located on the left bank of the Port, in the Continental Area of Santos.
About DP World
DP World Santos was created after the consolidation of the purchase of Embraport by the DP World Group (Dubai Ports World), a process that took place in December 2017. The company is responsible for the operation of one of the largest private port terminals in Brazil, left bank of the Port of Santos (SP). With investments of R$ 2.3 billion, it provides more than 800 direct jobs and 1.500 indirect jobs.
Installed in a strategic area with access by sea, road and rail, the project has 653 meters of dock, 207 thousand square meters of patio and capacity of annual movement of 1.2 million TEUs (unit equivalent to a container of 20 feet).
July 2019
Press Information
Gabriel Setten
+55 (13) 3213.0719
+55 (13) 99651.5154
We use cookies on this site to enhance your user experience. By continuing to visit this site you agree to our use of cookies. Learn More