DP World Santos receives authorization from Antaq to operate its new pier section
Date: 08/05/2020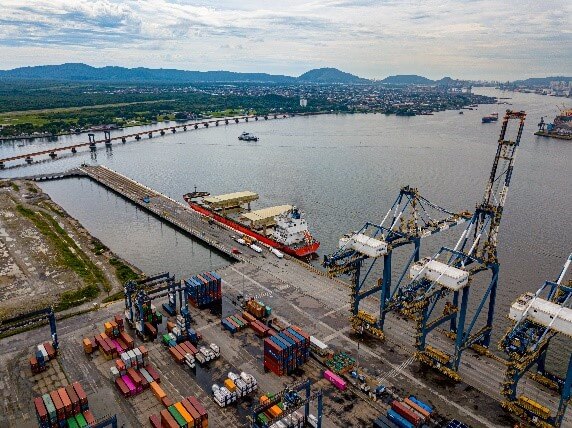 DP World Santos, one of the largest and most modern multi-purpose port terminals in the country, installed on the left bank of the Port of Santos, received on April 29th the authorization of Antaq (National Waterway Transport Agency) to operate its new section of pier, which corresponds to 1.100 meters long, within the authorized area of 1.372.225.00 square meters.
The term regularizes the construction of the last 226.75 meters of the East pier and a 'dolfin' (a kind of metal walkway for workers to moor vessels), concluding the 447-meter section, which is part of the project to expand the docking of the company.
The new 226-meter pier section includes several works to expand the terminal for pulp operations.
About DP World
DP World is the leading enabler of global trade and an integral part of the supply chain.
We operate multiple related businesses – from marine and inland terminals, marine services, logistics and ancillary services, to technology-driven trade solutions.
Our portfolio of more than 150 operations in over 50 countries across six continents gives us a significant presence both in high-growth and mature markets.
DP World's dedicated team of more than 50,000 employees from 120 countries build enduring relationships with governments, shipping lines, importers and exporters, communities, and many other essential constituents of the global supply chain, providing quality value-added services today and tomorrow.
Container handling is the company's core business and generates more than half of its revenue. In 2018, DP World handled over 70 million TEU (Twenty-foot Equivalent Units) across our portfolio. With a pipeline of committed developments and expansions, we expect the current gross capacity of 91 million TEU to rise in line with market demand.
By thinking ahead, foreseeing change and innovating, DP World aims to create the most productive, efficient and safe trade solutions globally. We aim to be essential to the bright future of global trade, ensuring that everything we do contributes positively and sustainably to the economy and society.
May 2020
Press information
Gabriel Setten
+55 (13) 3213.0719
+55 (13) 99651.5194
We use cookies on this site to enhance your user experience. By continuing to visit this site you agree to our use of cookies. Learn More