DP World has the first woman to act as Wharf Operator at the Port of Santos
Date: 30/09/2022

Paula Santana's appointment is yet another disruption in the sector, whose position has been mostly occupied by men throughout the years

DP World Santos, one of the largest and most modern private multipurpose terminals in the country, continues focused on gender equality. Since last month, DP World Santos has the first woman at the Port of Santos in the position of Wharf Operator - a position popularly known as foreman.
Wharf Operator is a function that is responsible for docking and undocking ships, tying them to the wharf, in addition to removing and placing the so-called "nuts" (the part that connects the container's beams), placing steel cables, hooks, among others, on oversized containers or loose cargo. She also provides support at the back, operating small forklifts on the wharf, when necessary, to transport materials and tools.
Paula Bispo de Santana was operations assistant at the terminal for two years. In her new position, she will actively assist in loading and unloading ships and trucks at the terminal, ensuring a safe and efficient process. "I am honored to be part of a milestone in the Port of Santos and DP World Santos, which encourages women to make history in the port sector. The corporation's confidence in this new step shows that it recognizes the opportunities we have amidst a predominantly male sector," Paula celebrates.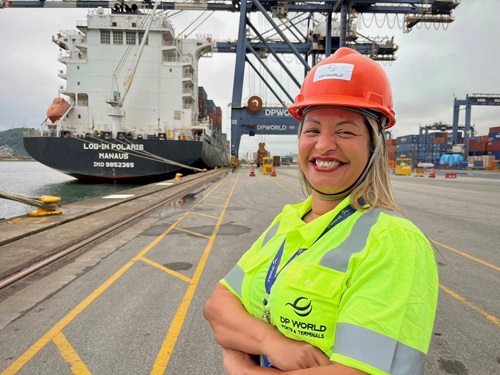 Gender equality is one of the focus areas of the DP World Group's Sustainability Strategy, and is based on the Sustainable Development Goals (SDGs) of the UN. In Brazil, the terminal currently has more than 200 women on its staff who work in both administrative and operational areas. The number is more than double the number of female employees that worked in 2013, when the company was inaugurated. The expansion of the infrastructure to become a multipurpose complex and the new range of services offered by DP World Santos have contributed to the entry of more and more women in the workforce.
"We are pioneers in valuing women at the Port of Santos, as women's empowerment makes up one of the three main legacy areas of our ESG strategy. There are many other opportunities that we are fostering for this public and for the other diverse profiles that work with us," explains Alcino Therezo, People Director at DP World Santos. Last year, the company promoted Fabiana Almeida do Nascimento, the first woman to the position of Port Container Operator (the largest and most expensive port equipment) at the Port of Santos.
We use cookies on this site to enhance your user experience. By continuing to visit this site you agree to our use of cookies. Learn More