DP World Santos presents its new brand identity at the 24th edition of Intermodal
Date: 17/04/2018
For the sixth year in a row, DP World's terminal in Brazil will be present at Intermodal South America, the largest logistics fair in Latin America, which will take part March 13, 14 and 15, at São Paulo's Expo Center, in the city of São Paulo.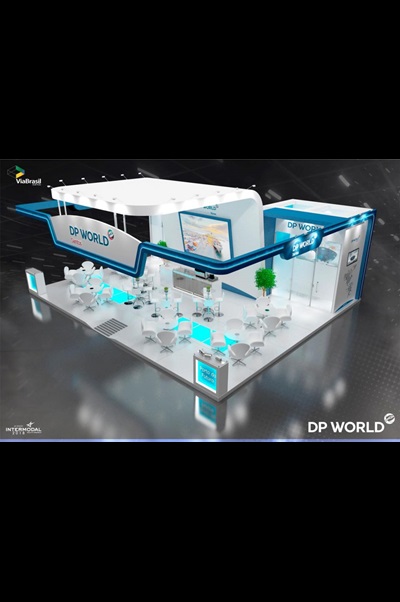 The news this year is that the terminal's new identity will presented for the first time: from Embraport to DP World Santos.
The rebranding was implemented after DP World (Dubai Ports World) acquired the remainder 66.67% from Odebrecht Transport, becoming the terminal's sole shareholder with 100% stakes in December 2017.
At Intermodal's 2018 edition, the terminal will have a 120 m² stand where it will present its services portfolio, highlighting its diverse activities. In addition to handling containers, DP World Santos has focused its operations on warehousing, LCL, cross-docking, railways and handling cargo such as cellulose pulp, Roll-on Roll-off" and handling cargo from a specific project in order to offer the most complete and integrated logistics solutions to its clients.
Another of this year's novelties, which also comprises the company's service diversification strategy, is the recent long-term agreement signed with Fibria to provide warehousing and port logistics operation services. The partnership includes the construction of new logistics structures in the terminal area, destined to warehousing, handling and shipping of pulp that may reach a gradual volume of 3.3 million tons.
This year, Intermodal will hold its 24th edition as the world's second largest and South America's largest fair in the industry of logistics, shipping and international trade. During its three days, the expo will gather over 400 exhibitors from all modes of transportation and from more than 22 countries. Bringing together the main market players, the expo will host debate panels and conferences with authorities and experts from the logistics sector.
About DP World Santos
DP World Santos was established through the acquisition of Embraport by the DP World Group (Dubai Ports World) in December 2017. The company is responsible for the operation of one of Brazil's largest private port terminals, located on the left bank of the Port of Santos, in the State of São Paulo (SP). With investments of 2.3 billion Reais (nearly 760 million dollars), it provides 800 direct jobs and 1,500 indirect jobs.
Located in a strategic area with access to sea, road and rail, DP World Santos has 653 meters of wharf, 207 thousand square meters of terminal area and an annual capacity of 1.2 million TEU (twenty foot equivalent units).
For more information, access our portal: www.dpworldsantos.com.
March 2018
Information to the press
Gabriel Setten (13) 3213.0719 – (13) 99651.5194
We use cookies on this site to enhance your user experience. By continuing to visit this site you agree to our use of cookies. Learn More