DP World Santos begins the Motorista Legal program, with free services for truckers
Date: 23/08/2021
For the eighth consecutive year, the terminal is working to reinforce the safety, health and well-being of drivers at the Port of Santos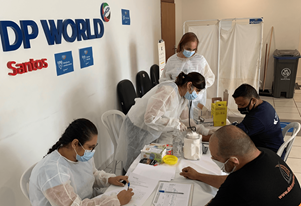 DP World Santos, one of the largest and most modern multipurpose terminals in the country, installed on the left bank of the Port of Santos, is holding the 8th edition of the
The campaign has been held for eight years, since the terminal started operating in Latin America's largest port. This time, it will take place between August 24 and 26, from 10am to 4pm, and all truckers who access the terminal's facilities will be invited to participate.
As part of the program, participants will receive free anti-Covid-19 guidance, basic health services that include blood pressure measurement, blood glucose, cholesterol and visual acuity (vision test) tests, and haircuts. The drivers also participate in a safety induction, which aims to alert about the practices that must be respected inside and outside the port facilities. At the end of the action, there will be a raffle for a prize.
For the initiative, DP World Santos adopted rigorous protection protocols against Covid-19. The professionals will follow all the control and hygiene criteria, the utensils will be sterilized, and the locations are demarcated to guarantee social distancing. Containers and totems with alcohol gel are available everywhere.
Accidents involving trucks represented 17.6% of the occurrences on federal highways last year, according to the National Transportation Confederation (CNT) and the Federal Highway Police. Four out of every five occurrences had victims. In addition, only 42.6% of drivers seek out health professionals for prevention, while 31.4% say the profession is stressful, according to the CNT Survey –
In total, more than 3,000 truckers have gone through the
Motorista Legal Program
Free event aimed at truck drivers who access the DP World Santos terminal at the Port of Santos
Date: from August 24 to 26
Time: 10am to 4pm
Location: DP World Santos Terminal (Estrada Particular da Codesp S/N - Ilha Barnabé, Santos/SP), at the cafeteria.