DP World and Brasil Terminal Portuário perform "Live Solidarity" this Saturday, 20th
Date: 22/06/2019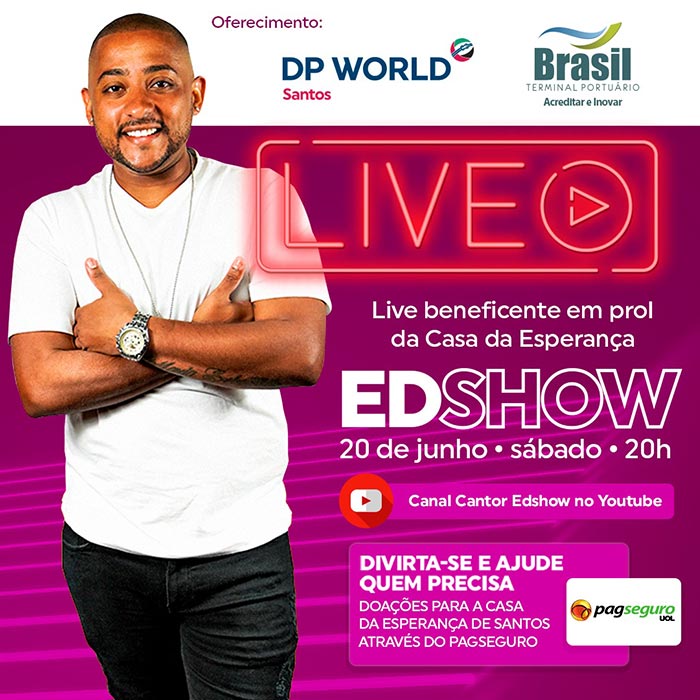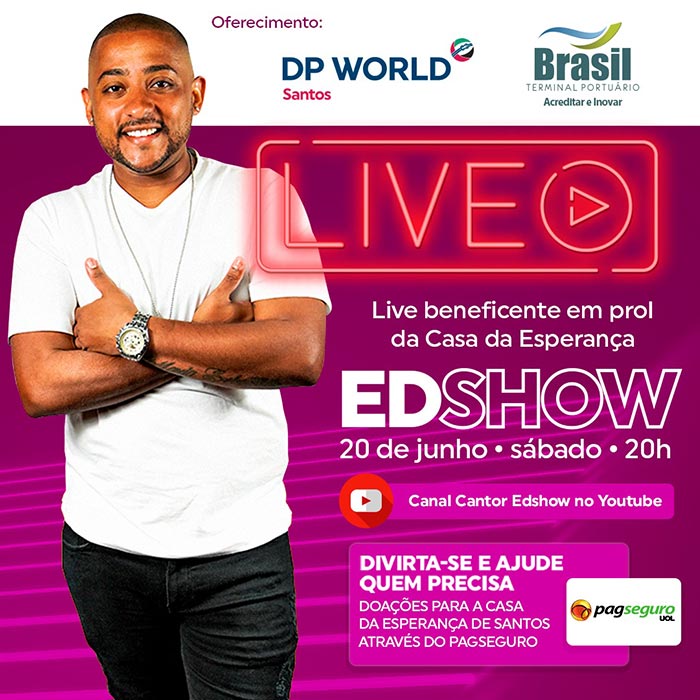 DP World Santos and Brasil Terminal Portuário, two of the largest port operators in the Port of Santos, are uniting again for a social action. This Saturday, 20th, at 8 p.m., they promote a live show with singer Edshow, on his Youtube channel.
The initiative aims to gather donations for Casa da Esperança de Santos, an institution that provides the treatment for children and adolescents with physical and intellectual disabilities for over than 60 years as a way to promote community inclusion.
This period of social distance did not forbid the two companies from finding a solution that (in addition to the social aspect) recognizes the efforts of their employees, especially those who work in the terminal operations. On a daily basis, they have dedicated themselves so that the Port of Santos continues to provide essential services to the population. And this stream live show is a manner to thank them, since face-to-face celebrations are not possible now.
Known for singing hits by renowned artists of the pagoda, Edshow was chosen by DP World and BTP. The artist's repertoire also includes his most famous single, called 'Pra você acreditar' and the most recent, 'Pra longe daqui", released last year.
How to help?
Those interested in helping can make electronic bank transfers through 'PagSeguro'. Throughout the concert, a QR Code will be available on the screen. You just need to point the phone's camera to read it, select the value and complete the donation process.
All funds raised during the broadcast will be directly transferred in supplies to Casa da Esperança, which has been closed since the beginning of the pandemic and is struggling to maintain the services provided to more than 230 patients.
About DP World
DP World is the leading enabler of global trade and an integral part of the supply chain.
We operate multiple related businesses – from marine and inland terminals, marine services, logistics and ancillary services, to technology-driven trade solutions.
Our portfolio of more than 150 operations in over 50 countries across six continents gives us a significant presence both in high-growth and mature markets.
DP World's dedicated team of more than 50,000 employees from 120 countries build enduring relationships with governments, shipping lines, importers and exporters, communities, and many other essential constituents of the global supply chain, providing quality value-added services today and tomorrow.
Container handling is the company's core business and generates more than half of its revenue. In 2018, DP World handled over 70 million TEU (Twenty-foot Equivalent Units) across our portfolio. With a pipeline of committed developments and expansions, we expect the current gross capacity of 91 million TEU to rise in line with market demand.
By thinking ahead, foreseeing change and innovating, DP World aims to create the most productive, efficient and safe trade solutions globally. We aim to be essential to the bright future of global trade, ensuring that everything we do contributes positively and sustainably to the economy and society.
June 2020
Press information
Gabriel Setten
+55 (13) 3213.0719
+55 (13) 99651.5194
We use cookies on this site to enhance your user experience. By continuing to visit this site you agree to our use of cookies. Learn More