DP WORLD SUSTAINABLY INCREASES CONTAINER CAPACITY AT ANTWERP GATEWAY WITH NEW STACKING CRANES
Date: 25/11/2022
FIRST CONTAINER FOR NEW ELECTRICAL STACKING CRANES WAS DELIVERED BY A HYBRID E-TRUCK
As of today, DP World can handle more containers at its terminal in the port of Antwerp, and this number will increase to in the coming years. The global logistics player commissioned additional automatic stacking cranes (Automated Stacking Cranes or ASCs) at Antwerp Gateway, allowing a maximum container density. By making maximum use of the available space and greening the container handling, DP World is preparing its terminal for the future. The first container was symbolically dropped off by a hybrid electric truck from Van More Logistics.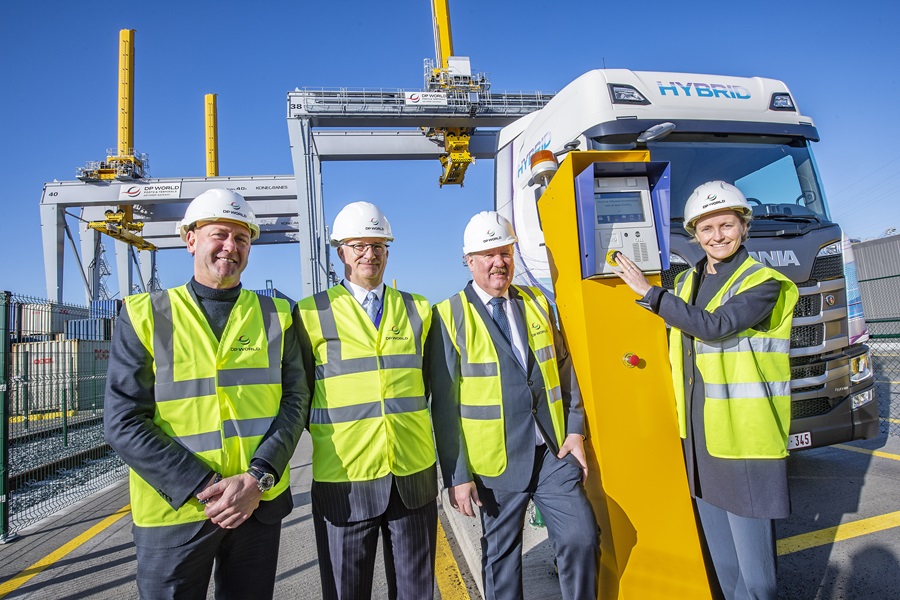 FLTR: Jo Van Moer (CEO Van Moer Logistics), Dirk Van den Bosch (CEO DP World), Marc Van de Vijver (mayor of Beveren), Annick De Ridder (alderman, Port of Antwerp-Bruges)
Additional container capacity
To create additional container capacity in the port of Antwerp-Bruges, DP World is transforming its Antwerp Gateway terminal by means of further automation and electrification. The current terminal will be equipped with 17 additional new automatic and electric stacking cranes (ASCs), on top of the 10 existing modules. These cranes can stack up to 50% more containers than stacks served by traditional straddle carriers. DP World will invest a total of almost 200 million euros by 2026 to further increase the capacity of Antwerp Gateway. For modernizing the infrastructure, the terminal received a European subsidy, allowing three new ASC modules and two future quay cranes.
Dirk Van den Bosch, CEO DP World in Antwerp: "The commissioning of the stacking cranes contributes to the optimal and sustainable use of the existing space in the port and is essential for growth. We are moving from a maximum annual capacity of 2.5 million containers to 3.4 million. We are retrofitting our terminal to reach our maximal density in 2026 in a carbon neutral way. This further reduces the footprint of transportation and assures our customers of additional capacity by 2026."
Net zero carbon in 2050
The combination of electrification and making the business processes more sustainable resulted to DP World in Antwerp reducing its CO2 emissions per handled container by more than 50% in just 8 years. The eventual goal is to become net zero carbon in 2050. In addition to the new stacking cranes, DP World also deploys hybrid straddle carriers. The new stacking cranes run on green electricity supplied by the windmill and the biogas plant on the site. DP World is also exploring other green solutions such as HVO and hydrogen. Suzanne Kwanten, HSSE Director DP World: "We continue to focus on this green and efficient way of container handling. The future of a terminal will be electric or it will not be."
Hybrid e-truck Van Moer Logistics
To celebrate the official commissioning of the new cranes and to illustrate the sustainability of logistical processes in the port, Jo Van Moer, CEO of Van Moer Logistics, symbolically dropped off the first container in the module with a hybrid electric truck. The e-truck is currently being used as a test within the Van Moer Logistics fleet.
Jo Van Moer, CEO Van Moer Logistics: "The greening of the logistics chain is accelerating with new initiatives from pioneer companies in the sector such as DP World. We also hope to contribute by continue to invest in the greening of our fleet. We are already fully testing with hydrogen and now we will also investigate the possibilities of electrification."
Annick De Ridder, alderman Port of Antwerp-Bruges: "Our port is the economic engine of Flanders. Additional container capacity is of paramount importance in order to maintain this in the long term. In anticipation of the realization of ECA by 2030, DP World will already ensure a capacity increase of 1 million TEU by 2026 with this investment of almost 200 million euros in automatic stacking cranes. These kind of innovations and investments in the sustainable future of the port should make us particularly proud as region."
Marc Van de Vijver, mayor of the Municipality of Beveren: "With this investment, DP World fully opts for a long-term anchorage in the Waaslandhaven in Beveren. The fact that this port expansion takes place in a sustainable manner offers added value for the municipality and its inhabitants."
About Automatic Stacking Cranes (ASC)
The Antwerp Gateway terminal has a far-reaching degree of automation through the use of Automatic Stacking Cranes. 'ASCs' are unmanned cranes on rails that store or collect containers fully automatically. In the coming years, they will replace the classic stacks at the terminal operated by straddle carriers at Antwerp Gateway, with a positive impact on container capacity and environmental footprint. A major advantage is that containers are stacked even higher in the latest generation of ASC modules: up to 6 containers high and up to 9 wide instead of 5 and 9 in the earlier modules. This results in a doubled capacity gain compared to a classic straddle carrier yard. By further equipping the terminal with this, 30% capacity will be added, or 1 million TEU extra per year, on top of 2.5 million TEU.
An ASC module consists of 2 cranes, one for the handling of trucks on the land side, and one for the exchange with the ships by means of straddle carriers on the water side. In 2008, DP World Antwerp Gateway pioneered in the port of Antwerp with 7 modules. More than 10 years later, in 2016, another 3 new modules were added. In 2026, another 10 years later, a total of 27 modules will be in service.
The automatic stacking cranes operate on the 100% green electricity that Antwerp Gateway largely (75%) produces locally with its own wind turbine and biogas plant. Thanks to this technology, the terminal has been able to reduce its CO2 emissions per container movement by 51% over the past 8 years.