New beer train for port transport of Stella Artois
Date: 28/10/2019
From now on AB InBev will organize the majority of its transportations in the port by train. From 2020 onwards the brewer will use this modal shift to make around 20.000 trucks a year redundant. A new train connection and beer train was opened on Monday in the presence of the Flemish Prime Minister Jan Jambon. The new train route is an initiative of AB InBev and Katoen Natie, the warehouse where the trains are loaded with Stella Artois, and thanks to partners Lineas and DP World.
The new train connection to DP World removes 47 containers and thus 47 truck journeys by train. Added to the 15,000 containers that AB InBev already had transported to Kaai 1742 MPET via an existing train connection in 2019, this brings the total for 2020 to 20,000 containers (ie truck rides) less on the Antwerp ring road. That means less pressure on the road network, 440,000 fewer kilometers traveled on the track and a saving of 75% CO2.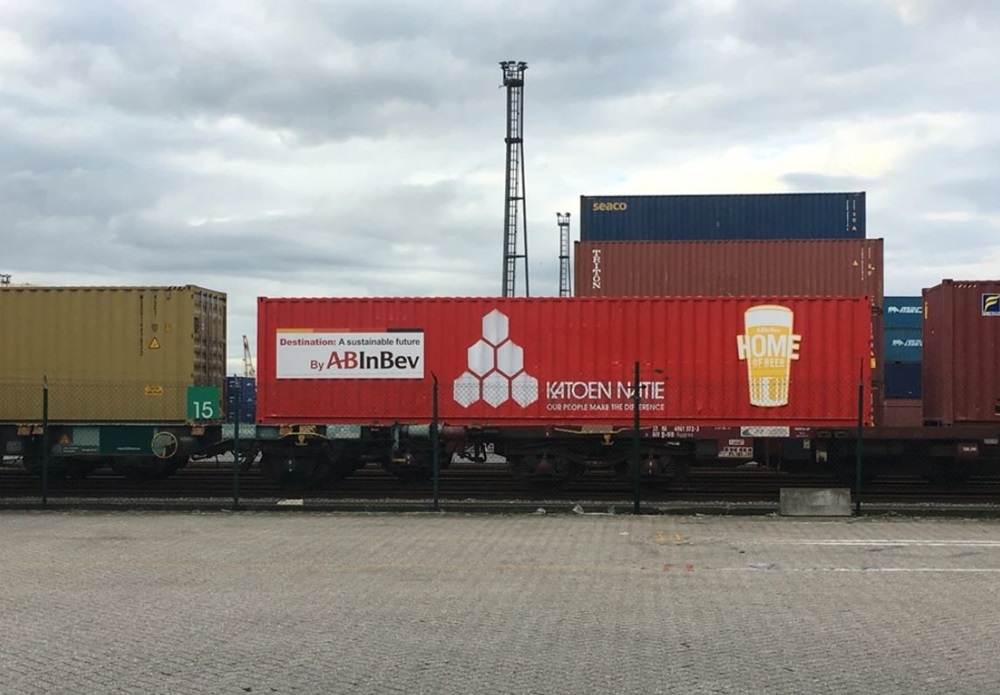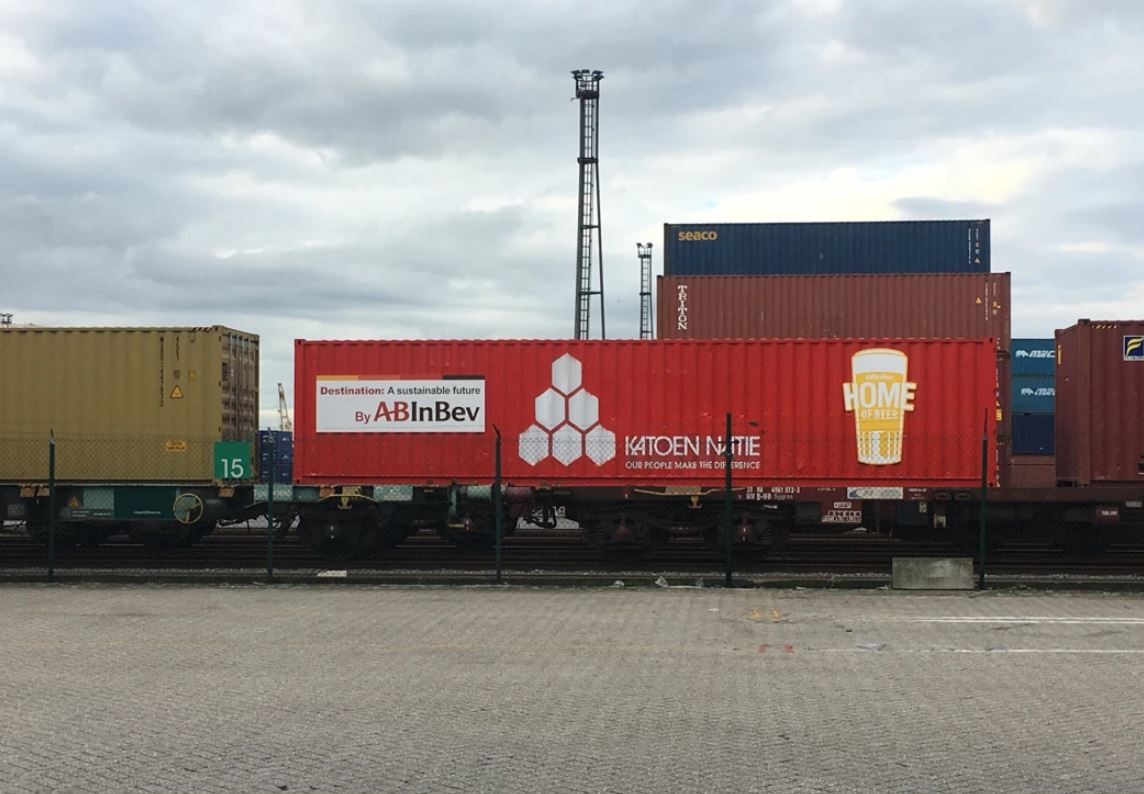 75% Stella Artois for export via the port of Antwerp
"The export of Stella Artois continues to grow and that also brings a responsibility," says Alexander Soenen, brewery director Stella Artois. "From Belgium, the Home of Beer, we want our beers to reach beer lovers worldwide, but in a sustainable way. Together with Katoen Natie and other partners we make this modal shift possible. "Today, beer lovers in more than 100 countries are drinking Stella Artois. Since 2014, the volume of Stella Artois exports has doubled with an annual growth rate of almost 8%. 90% of Stella Artois brewed in Belgium is intended for export, 75% of which is destined for the US, but also for Canada, Mexico and South Korea.
Direct train connection is result of strong commitment
It is unique that a container train is used for a direct connection between a warehouse and a specific quay. Usually the transport takes place with stops in terminals or shunting stations. Transport is usually done with the stops or via hubs. "At the request of AB InBev, DP World (terminal operator) and Katoen Natie, we have started looking at a specific route to quay 1700. That new train connection will replace all existing freight transport on that route and thus take 5000 trucks off the road in 2020. This testifies of a strong sustainable long-term commitment," says Bob Van de Vondel from Katoen Natie.
"With increasing congestion in and around Antwerp, more and more companies are looking at the railways to get their cargo off the road. With this beer train everyone wins: our customers, the climate, but also drivers on the road, "says CEO Geert Pauwels of Lineas, rail operator.
DP World is also a terminal that is fully committed to sustainability. The automatic cranes that handle the containers use much less energy and the energy used is produced locally by a biogas plant and windmill. This helps to reduce the CO2 footprint of each beer even more.
Top companies join forces
According to Flemish Prime Minister Jan Jambon, who inaugurated the train connection, this new rail connection is an example of what is possible when top companies think together about sustainable transport and efficiency. Jambon: "The already clogging road network will not be able to accommodate the growing freight transport. So - as AB InBev and Katoen Natie are doing here today - we will have to make even more use of the railways and our under-utilized waterways to bring our goods on site in a smooth, safe, environmentally-friendly and reliable manner. "
Beer boat and beer train reduce 1 million kilometers on the road in 2019
With these initiatives, AB InBev wants to take the lead in green logistics as a global player. Earlier this year, the brewer replaced 5,000 truck rides with a beer boat between Jupille and the port of Antwerp. "Added to our efforts for 2019, this brings the total saved kilometers for the beer boat and beer train to more than 1 million. In 2020, with the new beer train, another 100,000 km will be added, "says Pepijn Raes, European logistics manager for AB InBev. In addition, AB InBev is also investing in an increasing number of CNG and LNG trucks for short urban journeys. The eco-combi that can transport more units per trip and a schedule to limits empty driving also contribute to a more sustainable footprint. AB InBev's objective is to reduce CO2 emissions by 2525 by 2525 compared to 2017.
We use cookies on this site to enhance your user experience. By continuing to visit this site you agree to our use of cookies. Learn More