DP World hands out waffles and soup on truck driver's day
Date: 09/12/2021
On December 9th, known as Truck Driver's Day, DP World handed out warm waffles and fresh soup to more than 2,800 truckers passing by the container terminal and the Empty Depot nearby. With its participation in this Febetra initiative, the container handler was one of 253 companies showing their support for this vital link in the logistics chain.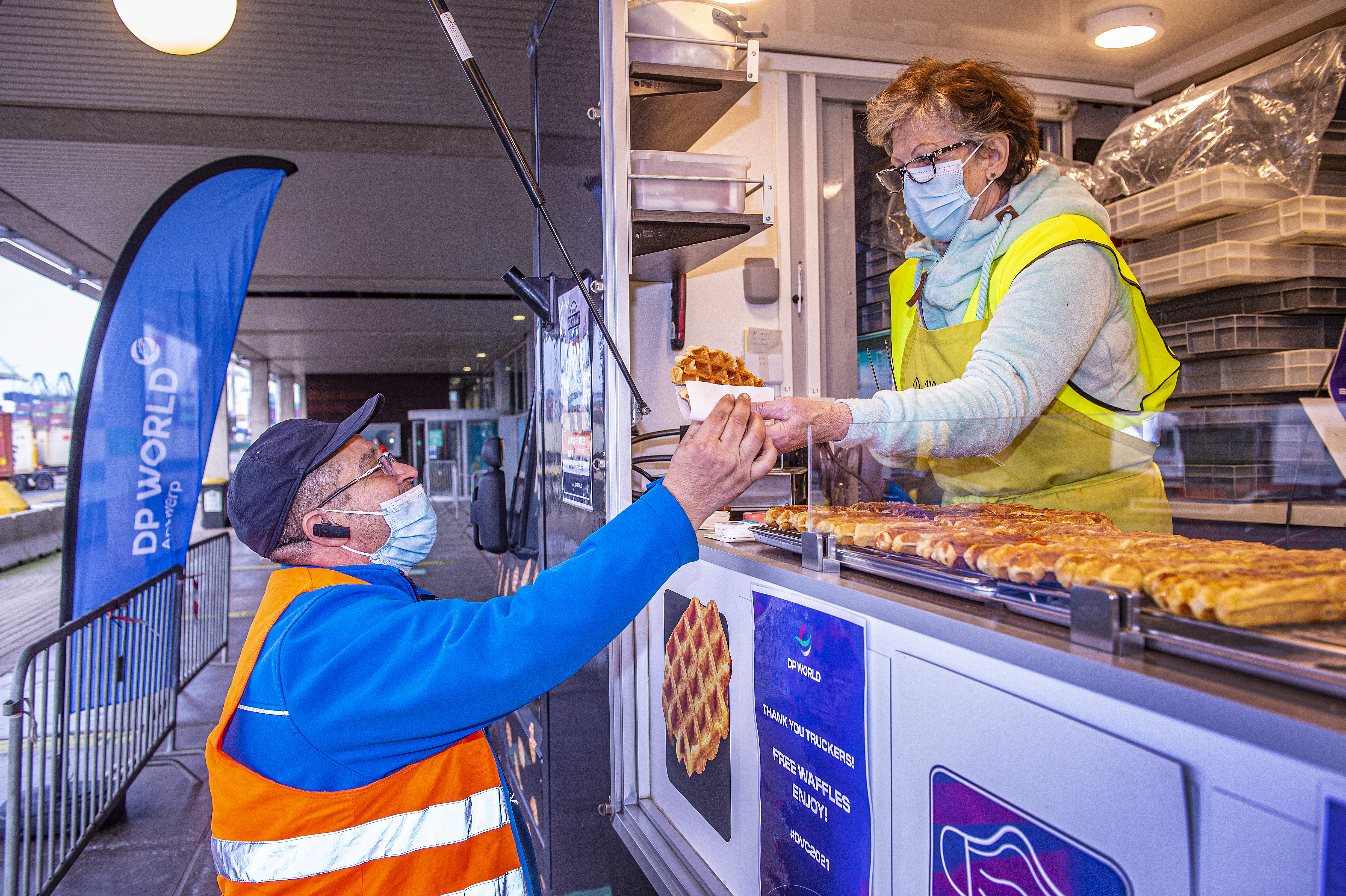 Indispensable link at the terminal
Truck drivers are an indispensable link at DP World's container terminal (quay 1700 and Empty Depot Services 'EDS'). Every day, they ensure that more than 2,000 containers are picked up and dropped off at the terminals of DP World and EDS, which were unloaded or will be loaded on ocean-going vessels, trains and barges at the Deurganckdok. Road transport is an important transport mode within DP World, accounting for 58 percent of the modal split at Antwerp Gateway.
Warm treat on Trucker Appreciation Day
December 9, 2021 is Truck Driver's Day (#DVC2021), an initiative of Febetra. On that day, companies across the country put truck drivers in the spotlight with numerous actions to thank them and recognize their important role in the economy and society. DP World also wanted to show their appreciation by offering them a warm treat at its sites: Liège waffles at the Antwerp Gateway terminal and fresh soup at the Empty Depot, where empty containers are stored, repaired and maintained.
"As a busy terminal, we have been committed to efficient truck handling for years through various initiatives and continuous fine-tuning of our processes. We are therefore proud to participate in this Febetra initiative to express our appreciation for these hard-working drivers who are vital in our economy and in the logistics chain," states Dirk Van den Bosch, CEO DP World.
Efforts for efficient truck handling
DP World puts in a lot of effort to support drivers every day so they can do their job as efficiently and smoothly as possible. For example, for many years there has been an on-call system based on appointments and time slots to allow transporters to load and unload their containers efficiently, available 24/5. At Antwerp Gateway, some of the containers are put on trucks by means of the traditional straddle carriers, but trucks are also handled in an automated way, by means of unmanned stacker cranes operated by the drivers themselves. In the coming years, this system will be expanded further to create more capacity at the terminal.
For two years now, drivers can handle all their administration safely and smoothly from their cabin using an app developed specifically for truckers, "Route 1700", in which they also receive important information and updates. DP World strives to maintain good relations with the trucking community through regular consultations with the umbrella transportation federations. This will lead to numerous optimizations to the truck flow in the coming years. Last but not least, drivers can use clean restrooms and enjoy free coffee at the checkpoint every day.