DP World Antwerp and cinvio Join Forces
Date: 18/05/2021
This partnership extends the operational efficiency, speed, and accuracy E-World 1700 delivers to transporters when they manage their container transactions at DP World Antwerp facilities with premium features on the platform available through cinvio, the digital B2B wallet for the logistics sector.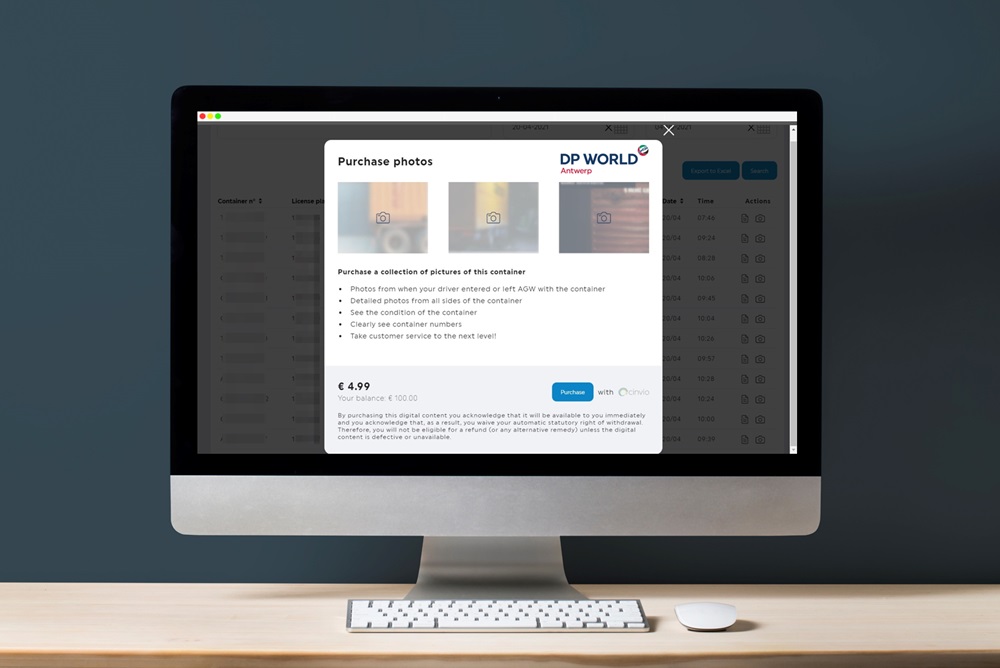 Premium services on terminal portal
Antwerp, 18 May 2021 – DP World Antwerp has set sail with Antwerp-based payment platform cinvio to offer a digital wallet for services offered on its new online portal, E-World 1700. From 18 May 2021, transport companies will be able to purchase high-resolution photographs of the containers they deliver to or pick up from Antwerp Gateway via the portal, alleviating transporters from the hassle of having to ask drivers to step out of their cab to take and upload photos themselves. To process the payment smoothly, it was decided to integrate with cinvio, the payment platform and digital wallet for the logistics sector. Logistics companies with a cinvio wallet enjoy the ease of using one digital wallet to settle services from many providers. Service providers enjoy the ease of digital and automated payments and invoicing processes, while gaining on customer transparency. Customers enjoy a payment platform that integrates easily with their way of doing business. A win for all parties.
Easy purchases with cinvio
With this integration, E-World 1700 users will be able to easily make payments for purchases they make on the portal after a one-time connection with cinvio. Via cinvio, all purchases are collected and processed, and the user receives an official VAT invoice every month with an overview of all purchases. The feature has already been rolled out on E-World 1700 and all company administrators (or Super Users) can use it, or delegate access to other users of their company so that they too can make purchases. DP World Antwerp is the second service provider in the port of Antwerp to join the cinvio community after CertiWeight.
Dirk Van den Bosch, CEO DP World Antwerp: "DP World Antwerp sees the new collaboration with cinvio as the next step in its digital transformation, in which we want to develop as many useful services as possible for the users of our terminal. Through integrations such as these, we can make the supporting functions accessible in a safe, user-friendly and smooth way."
New functions for the logistics process
E-World 1700 already contains many timesaving features that make managing and looking up appointments at the terminal easy and fast. Route 1700, DP World Antwerp's app for truckers, extends this user experience to support drivers during their visit to the terminal with convenient information about their trip. DP World Antwerp continues to develop new functions that make the logistics process smoother and more transparent for truckers and dispatchers, such as a better link between E-World 1700 and Route 1700. With cinvio as payment partner for E-World 1700, existing premium features are now also easily accessible for companies in the logistics sector.
Luc De Clerck – CEO cinvio: "It is an honour to have such a renowned terminal operator boarding our platform. We firmly believe in the potential of e-commerce for the industry and are determined to make everyone see how B2B purchases can offer the same customer experience as the Amazons and Zalandos of this world."
cinvio is constantly expanding its payment flow portfolio to suit the needs of all possible stakeholders in the industry. Thanks to the insights and contributions of various stakeholders it has recently enabled recurring payments in the form of subscriptions and bundles, further simplifying the administrative lives of those taking specific services on a regular basis.