Dock workers at DP World Antwerp volunteer in care centers during Covid-19
Date: 29/12/2020
During this end-of-year period, several employees of terminal operator DP World Antwerp volunteer in hospitals and residential care centers. They provide logistical support or help with the distribution of meals. During their volunteer hours, the employees do not have to take any vacation and their wages continue as usual.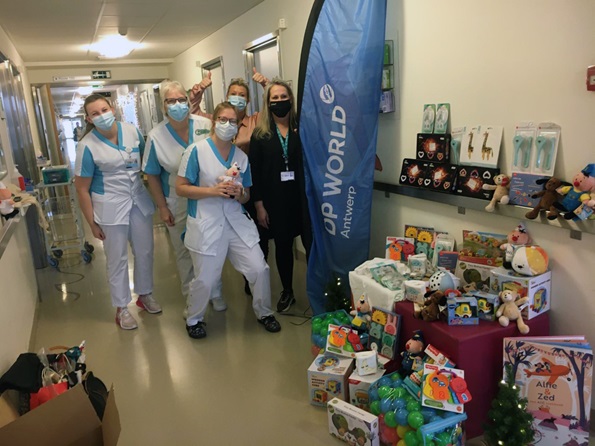 In the middle of the busy end-of-year period at the DP World container terminal at the Deurganck dock, two dock workers and an assistant make time for volunteer work for a few days in the care sector. The port itself is an essential sector for the logistical supply and distribution of essential goods and products. "But we want to show solidarity with the people on the frontline in healthcare," says Hugo De Bie, HR Director of DP World Antwerp. "That is why we launched an initiative during which our employees can volunteer during their working hours in hospitals or residential care centers." The employees could look for a project in their neighborhood or registered via the Crisis Volunteer Center of the Red Cross.
Wim Verhaert, a straddle carrier driver in daily life, responded immediately to the call. "Via the Red Cross I was assigned to help in WZC Regatta on the Left Bank. Although it is very busy at work, I'm spending some working days to help set the tables, serve meals, and help residents with enjoy their lunch. They can always use help here anyway and I was eager to take this opportunity to do my bit too. It was a moving day, but with great satisfaction. The reactions of the residents and colleagues were heartwarming. "
Straddle carrier driver Patrick Robert is also working through the Red Cross and helps serve meals in WZC Guild Garden in Londerzeel. "It can be busy on our terminal, but here I have not stopped work for a second and I really admire the care providers and volunteers who work here every day."
Karine Baetens, executive assistant, has been voluntarily active at the reception of AZ Monica since the start of the corona crisis. She is responsible for, among other things, guiding patients and the first corona screening during registration. "The youngest patients in the hospital are not forgotten. DP World donated gifts to the paediatrics department."
DP World also made donations to Mothers for Mothers, the social football project City Pirates and the Gielsbos care institution. "With the logistical help of our volunteers and our donations to organizations, we want to help society in those places where the Covid19 crisis hits hardest," concludes Hugo De Bie.
We use cookies on this site to enhance your user experience. By continuing to visit this site you agree to our use of cookies. Learn More