Cycle training courses for staff
Date: 12/07/2019
The first group of 17 staff from DP World Antwerp completed a course of speed bicycle training delivered by the Flemish Traffic Foundation (Vlaamse Stichting Verkeerskunde). The cyclists received instructions on how to move safely in traffic and information about the traffic rules for speed bikes, followed by a practical session about steering and braking skills and interaction with other road users.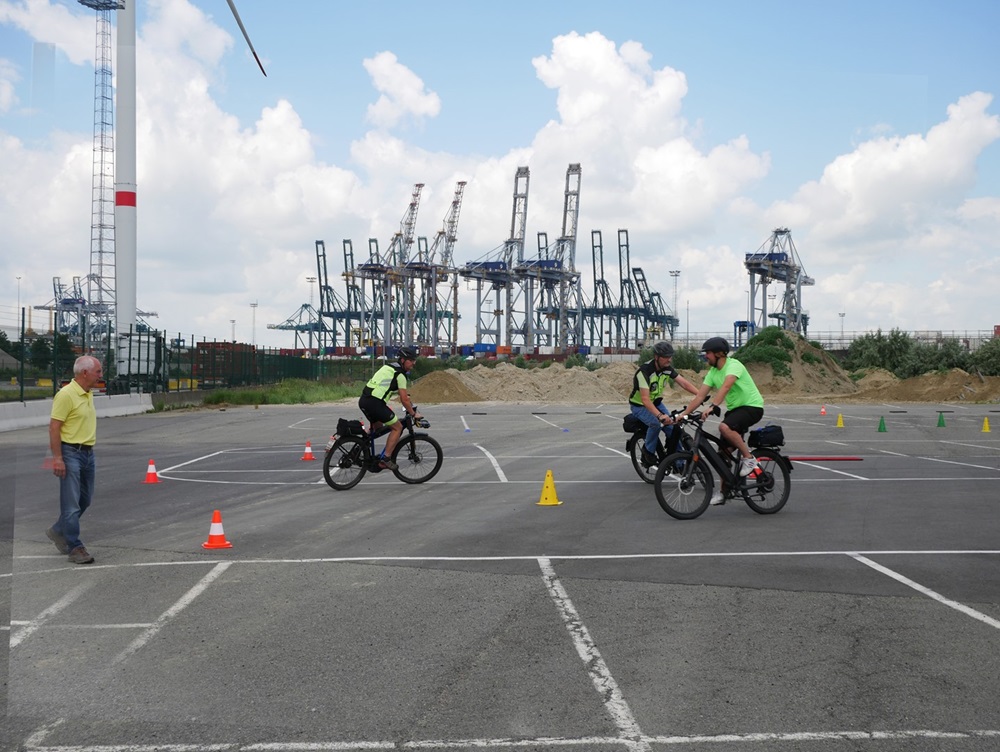 1 in 7 staff use a cycle to work
To avoid the ever-longer traffic jams, commuters look for alternatives to the car. At the beginning of this year, terminal operator DP World Antwerp launched a bicycle lease plan for employees and dock workers on a permanent basis. It immediately became a great success. Since the launch, more than 100 bicycles have been ordered, including 70 speed pedelecs. DP World Antwerp employs around 750 people, half of whom are dock workers. Certainly in the port, where the distances are great, these fast electric bicycles up to 45 km per hour are popular. However, due to the higher speeds, there are also additional risks involved. Last year there were 86 road casualties among drivers of speed pedelecs in Flanders, including 1 fatality and 9 seriously injured. Due to the increasing use, the number of victims has almost tripled in one year. That is why it is important to offer speed pedelec users good training that helps them to move safely in traffic. Hugo De Bie, HR DP World Antwerp Director: "The safety of our employees is our absolute priority, both on site and outside. To prevent accidents, we offer this bicycle training. " Users of speedbikes are also obliged by the company to wear a fluorescent jacket and a helmet.
Education
The company training on the safe use of speed bikes takes two hours and includes both a theoretical and a practical part, with the aim of making employees more aware of the risks of driving a speed pedelec. Attention is paid to awareness about speed and how to handle it responsibly, risk perception and safe braking. This is followed by practical exercises on interaction with other cyclists, steering skills and a "brake test", in which the employees had to be able to stop safely at some speed. In total, 17 cyclists already participated. New sessions will be organized after the summer holidays. Glenn De Nys, participant: "Fortunately I have not had an accident yet, but this training is recommended for every cyclist with a speed pedelec. The refreshment of the traffic rules for speedbikes was certainly useful, because there is still a lot of ignorance. Speedbikes are relatively new means of transport and have their own road code. Awareness is important. "
We use cookies on this site to enhance your user experience. By continuing to visit this site you agree to our use of cookies. Learn More