Biogas plant back in operation
Date: 17/01/2019
The port is getting a bit greener again: biogas plant back in operation through collaboration DP World Antwerp and Upgrade Bio-Energy
The biogas installation of Upgrade Bio-Energy on the DP World Antwerp site is back in operation and will produce 20 million kWh of green electricity annually. This is the equivalent of the consumption of 6,000 Belgian families. The power is used for the port activities of the Antwerp terminal operator DP World Antwerp. The cooperation ensures less CO2 emissions, waste recycling and high-quality fertilizers as a by-product.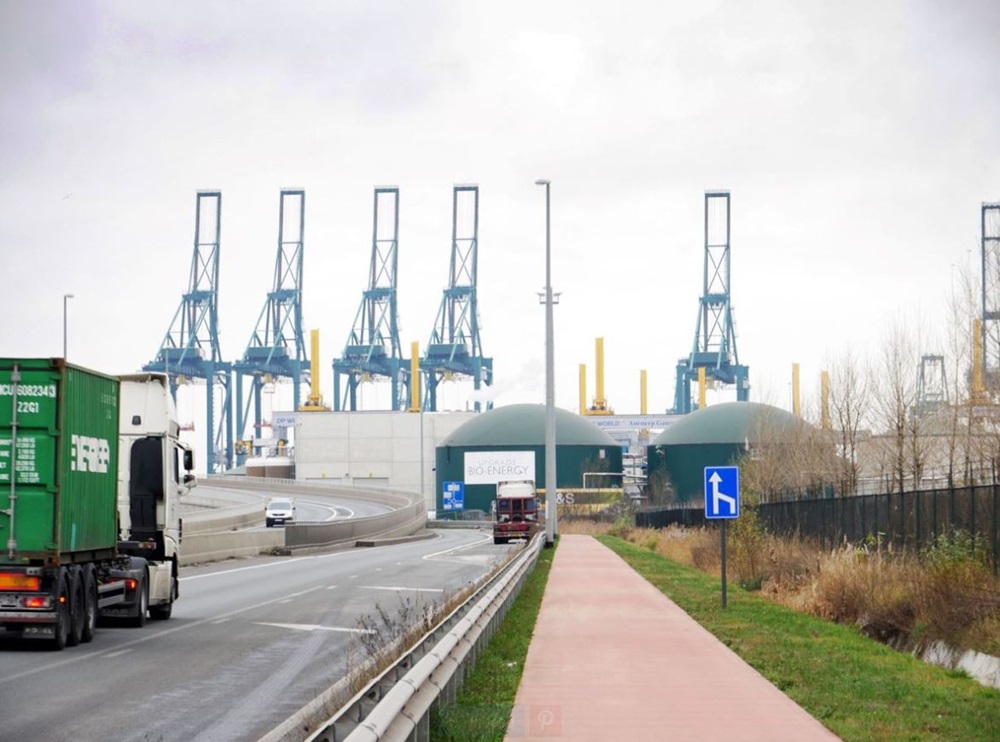 The installation Upgrade Bio-Energy (UBE) has been reactivated since August 2018 and is fully operational today. The plant will deliver 20 million kWh of green electricity annually by processing biological waste in electricity. This is the equivalent of the consumption of 6,000 Belgian families.
UBE is a biogas plant that converts biodegradable waste from nearby industries into electricity and fertilizers. The natural fertilizer that is created during the fermentation is in turn sold to farmers who use it on their fields.
The electricity produced is almost entirely delivered to DP World Antwerp. As a terminal operator, DP World Antwerp is a major energy consumer in the Antwerp port area. In 2018, for example, DP World Antwerp used around 30.7 million kWh of electricity for its automatic and quay cranes, refrigerated containers and buildings. In addition, the company also purchases green electricity from a wind turbine on its site. As a result, the company ensures a 100% green energy consumption.
Sustainability report
Since the end of 2017, Upgrade Energy has been the owner of the biogas installation Upgrade Bio-Energy (which was operated by NPG Bio II until the end of last year) on the DP World site. This installation has been shut down since August 2016 due to an explosion, during which two people were slightly injured. Last year, the installation was restored by Upgrade and put into operation again.
"UBE is a very professional partner, who already has a lot of experience in bio-energy. About 100% of the electricity produced by UBE is purchased by DP World Antwerp, so it is a win-win collaboration for both parties," says Bart De Jonghe, Technical Specialist at DP World Antwerp.
DP World Antwerp has been investing in sustainability solutions for years. Last year, for the first time, the company published a sustainability report, based on the pillars Environment, People, Safe and Society. The new collaboration with UBE is part of this vision. "As a large energy consumer, we bear a great responsibility. That is why we are always looking for more sustainable ways to meet our energy demand, "says Suzanne Kwanten, Environmental Coordinator at DP World Antwerp.
About the biogas plant
UBE produces 3 MWe (24.000 MWhe / year), which corresponds to the consumption of 6.000 Belgian households
Waste processing runs up to 60.00 tonnes / year (of which 90% industrial waste and 10% agroproducts)
•This installation can deliver 20 million kWh of green electricity to DP World Antwerp annually.
We use cookies on this site to enhance your user experience. By continuing to visit this site you agree to our use of cookies. Learn More