DP World Berbera provides services for container terminal operations, General Cargo operations, in addition the terminal offers warehousing, LCL storage/handling and stuffing, un-stuffing of containers as well as export livestock. As an integral part of the Berbera Corridor and the economy of Somaliland, DP World Berbera offers a superior transit gateway to Ethiopia.
Services include:
Business center - one stop shop (booking, billing, banking)
and customer service office
VGM insurance
Container terminal
General Cargo and livestock terminal
Customs facilities
Ministry of Trade offices (for customer clearance process)
BECOMING THE PORT OF CHOICE FOR EAST AFRICAN CUSTOMERS
Safe, secure and efficient handling and transport across Somaliland, Ethiopia and the Horn of Africa
Leveraging digital systems using state-of-the-art technology to heighten efficiency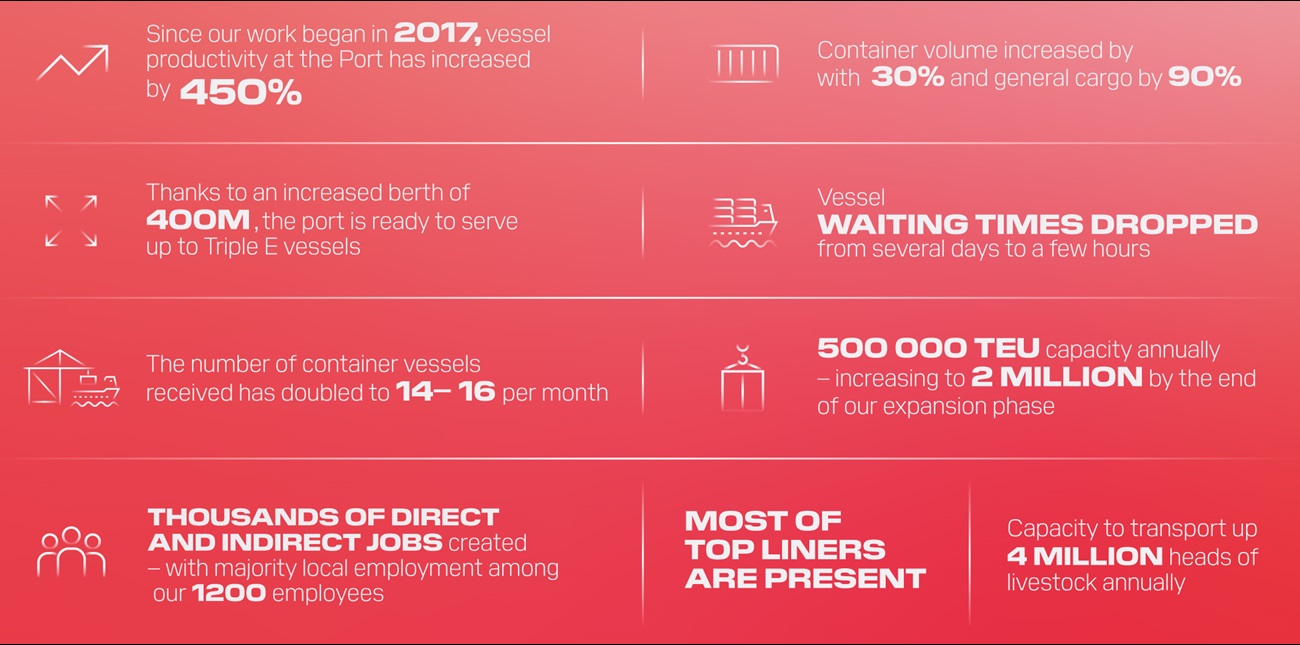 BECOMING THE PORT OF CHOICE FOR EAST AFRICAN CUSTOMERS
A new, fast and efficient land corridor will enhance trade and bring unrivalled value to customers in the Horn of Africa.
This 250 kilometer land route will be built to connect Berbera port and Ethiopia, in partnership with the Abu Dhabi Fund for development and the UK's Department for International development.
The 22.5km Hargeisa Bypass Road, funded by UK Aid, will enhance the capacity of the Berbera Corridor, and further reduce transit times of trucks by minimising congestion.
Phase 1 extension
In addition to the 650 metres of linear wharf, DP World Berbera completed an additional 400 metre quayside and additional 250,000 square meters of port yard, thus increasing the capacity of the port to 450,000 TEUs.
Learn more
Sustainablility
The Port also handles World Food Programme shipping, which mainly consists of aid supplies bound for Ethiopia and Somalia. Facilitating in conjunction with other responsible organizations, the sustainable growth of trade is realized through the port while providing jobs for more than 2,000 Somalilanders. Learn more about DP World Berbera and Sustainability.
Learn more