DP World Yarımca becomes the first stop
Date: 03/06/2020
The container ship which is the largest one that has ever come to Turkey so far made his first stop on the DP World Yarımca.
The 19.224 container capacity MSC Tina, which was formed by the combination of Maersk and MSC container transportation lines and entered the transportation routes that carried out by the 2M consortium from the Far East, approached the DP World terminal in Yarımca.
Despite challenging trading conditions COVID-19 due to the pandemic, 2M consortium which has an important place in our country's trade with the Far East, decided to increase the capacity of the ships that brought to Turkey.
The first stop in Turkey of MSC Tina which has the greatest capacity (19.224 TEU) to Turkey, was Yarımca DP World terminal. The 398.4 meter long MSC Tina, arriving at DP World Yarımca terminal on Monday evening, will leave the port after finishing the loading / unloading operations.
DP World Yarımca terminal's 922 meter berth, with its modern design and technological equipment, allows two container ships, each 400 meters long, to berth at the same time. DP World Yarımca terminal is ready to grow rapidly with its customers after the COVID-19's pressure on Trade has disappeared with the investments it has made in equipment park and railroad recently.
MSC Tina coming to DP World Yarımca one of the largest purposefully designed container terminal in Turkey, is 17 meters longer than the famous Empire State Building in New York and is 4.5 football fields long. Full capacity containers exceed 49,800 meters when loaded, which is equivalent to 60 times the Burj Khalifa, the world's tallest building.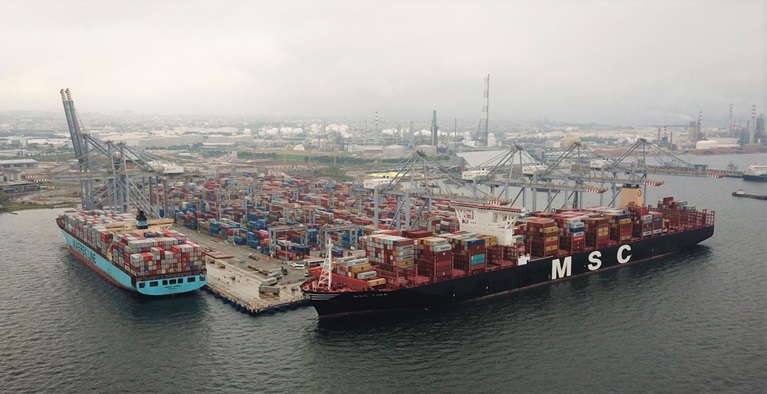 We use cookies on this site to enhance your user experience. By continuing to visit this site you agree to our use of cookies. Learn More