DP World Yarımca becomes a role model on World Environment Day
Date: 12/07/2019
"We started the change from within"
DP World Yarımca marked the World Environment Day by sharing its environmental projects. As an organization which has been actively engaged in environmental issues since its establishment, the company developed and implemented the "Minding My Waste" project this year in collaboration with the Mind Your Waste Foundation and the Körfez District Directorate of National Education in order to raise environmental awareness among children
The project, which was kicked off with a protocol signed by DP World Yarımca, the foundation and the national education directorate, aimed at educating students from district schools about waste and recycling with a special focus on reduction and recycling of disposable plastics. To this end, training materials were prepared in cooperation with Kocaeli University's Department of Education and a board game was developed by experts from Bilgi University, which were used for training not only students, but also their teachers.
Speaking at the project launching ceremony, which was held in March, DP World Yarımca CEO Kris Adams pointed out to the global issue of marine pollution and said, "We need to start the change from within and education is one of the most important elements to achieve it". Adams also said that, as a member of IMPACT 2030, DP World has been carrying out similar initiatives in all countries it has a presence in. "We believe that in order to be a role model for others, we need to start the change with ourselves, our employees and their families," he added.
IMPACT 2030 is a public and private sector-led environmental initiative in collaboration with the United Nations, and DP World is an active member of this initiative with all its terminals worldwide.
As part of its efforts to become an environment-friendly organization as Adams explained, DP Worl Yarımca took some important step last year:
The pilot phase of the "Minding My Waste" project directly reached out to 1,500 students in the Körfez district, meaning that, with their families included, some 6,000 people received training about wastes. To this end, 54 teachers from 24 schools received instructor training while students completed 13 activity plans with a total of 2,000 training hours.
As part of the "Minding My Waste" project, 70 volunteers from DP World received training and visited 3rd graders in 24 schools in the Körfez district to teach them how to play the "Zero the Waste" game.
Paper cups were eliminated, saving 1,300,000 paper cups from going to waste every year.
Paper towels in rest rooms were replaced with hand dryers, saving a total of 186 kilometers of paper towels.
Under-desk waste bins in offices were replaced with recycling boxes, providing a 25% increase in packaging waste sorting.
Water dispensers were connected to the water supply network, saving 1,920 plastic bottles per year.
Rest rooms were equipped with waterless urinals, providing an annual water saving of 1,200,000 liters, which is equal to the annual water consumption of 16 individuals.
800 trees were planted at the terminal.
A card authentication system was installed on printers, which helped reduce the number of pages printed by 37,000 pages in the first month.
Environment-friendly lighting equipment used at the port provide a 59% saving on annual power consumption.
All operational wastes are sent to recycling whereby 40% of the total amount of waste produced were fed back into the econommy in only 10 months.
The use of 18 electrified rubber-tyred gantry cranes prevents a carbon emission of 770 m
6 electrified Super Post Panamax quay cranes also contribute to carbon emission reduction.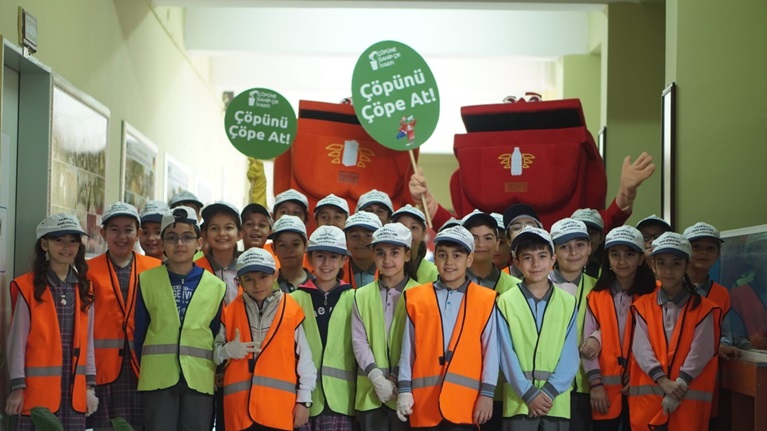 We use cookies on this site to enhance your user experience. By continuing to visit this site you agree to our use of cookies. Learn More