Fastest service in LCL cargo!
Date: 10/05/2019
DP World Yarımca is now offering the fastest LCL cargo delivery in the region thanks to recently introduced improvements. LCL cargo arriving at the terminal via direct Far Eastern services of MSC and Maersk reaches the secure warehouse in a more expedited way compared to other ports. Services such as palletizing, product sorting, weighing and inspection are provided at the warehouse.
The warehouse facility at the DP World Yarımca Container Terminal, which was built to cater to customers' demands, connects LCL cargo from around the world to Yarımca. Having the largest LCL warehouse in the East Marmara Region with a total area of 6,000 square meters, DP World Yarımca offers weekly LCL service from Far Eastern port to some of the leading forwarders.
Shorter Transit Time
An LCL cargo loaded on an MSC or Maersk Tiger/AE-15 service vessel at the Singapore Port arrives at DP World Yarımca, which is the first port of call for this service in Turkish waters, in only 14 days. In other words, your products reach DP World Yarımca 7-15 days faster compared to the other ports which offer LCL service in the Marmara Region.
High Security and Fast Delivery
You can contact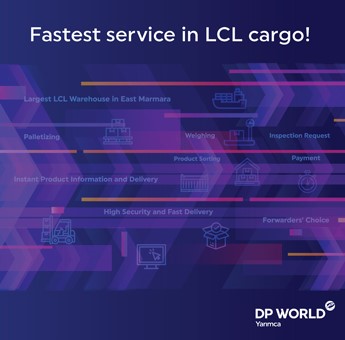 We use cookies on this site to enhance your user experience. By continuing to visit this site you agree to our use of cookies. Learn More