DP World Yarımca Railway Connection
Date: 12/07/2019
The starting point of the road leading to global markets, DP World Yarımca will now provide services to anywhere within Turkey's railway network.
DP World Yarımca terminal is adding railway transport to its already extensive portfolio of services. DP World Yarımca will offer its customers the infrastructure which will allow for a cheaper and more secure access to anywhere in Turkey.
Pointing out to their role as a "trade enabler", DP World Yarımca CEO, Kris Adams said, ''We will bring the export opportunity to anywhere within the reach of the railway network."
Once the railway connection is commissioned, DP World Yarımca terminal, which – despite the short period of time since its establishment – surpassed the 1 million TEU threshold in 2018, will start serving customers in Ankara, Eskişehir, Bilecik and Kütahya as well, providing an easy and economic means to carry metal and mineral ore, marble and machinery.
Rubber-tired gantry cranes will enable a fast and secure handling of trains, which will directly reach the shipboard. Thanks to the design, which will allow for faster a loading and unloading, cargo will spend less time at the port.
The railway connection will allow for a more secure and cost-effective cargo transportation to and from any location where Turkish State Railways insfrastructure is available while also reducing environmental impact and minimizing risks. Moreover, it will help producers reach global markets at lower costs by means of various shipping lines calling at DP World Yarımca. The new junction line will also reduce the time cargo spends at the port thanks to its design, which facilitates faster loading and unloading.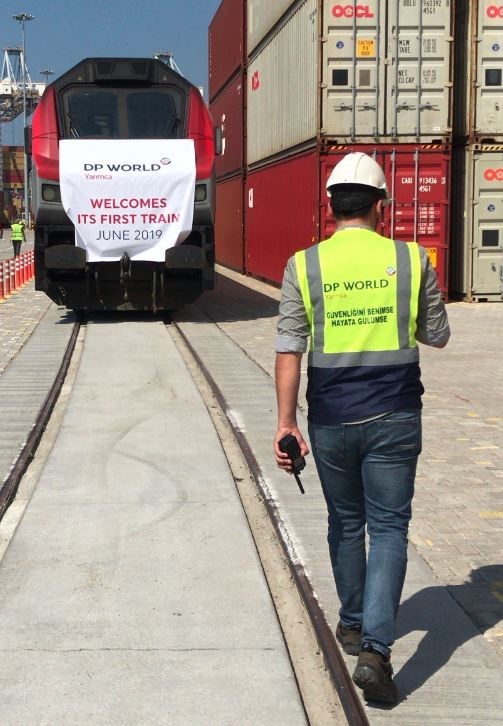 We use cookies on this site to enhance your user experience. By continuing to visit this site you agree to our use of cookies. Learn More