MTC visits expansions works of "Muelle Bicentenario" project of the Callao Port Terminal.
The works of the expansion project of the Port of Callao (Muelle Bicentenario) present a 32.9% progress and represent an investment of 350 million dollars.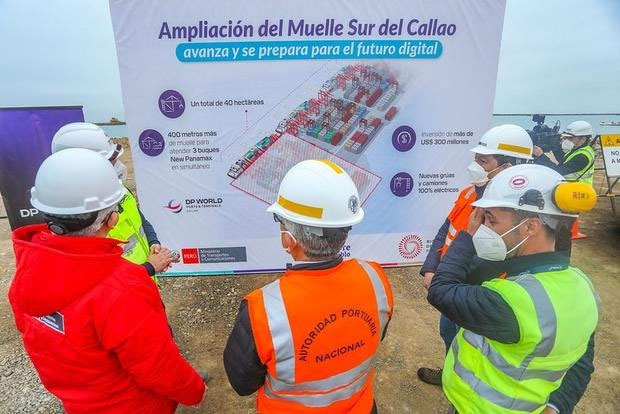 "A little over a year ago when many international companies hesitated to continue investing in Peru, we made the decision to launch this megaproject of the Bicentennial Pier. With this expansion, our commitment to Peru will reach more than 1,000 million dollars, an investment for the economy and the Peruvian people. This year, DP World Callao celebrates 16 years in Peru and what better way to do it than by reaffirming our commitment to improve the competitiveness of Peruvian foreign trade and the country's economic growth, said Nicolas Gauthier, CEO of DP World Peru".
It should be noted that the project considers the acquisition of new machinery. Among them: 3 gantry cranes, 16 yard cranes and 20 new electric internal transfer vehicles (ITVs), being the first Port Terminal in the world to acquire a fleet of electric trucks of this magnitude, and that will contribute to the Terminal being free carbon by 2030.
With the entry into operation of the Bicentennial Pier project, the capacity of the South Pier will be expanded by 40%, projecting to receive up to 2 million TEUs (20-foot containers) per year. Currently, the South Dock already receives more than 60% of the containers from the Port of Callao and with the expansion of its capacity it will be possible to receive up to 3 Neo Panamax ships simultaneously (vessels of more than 300 meters). In this way, DP World Callao reaffirms its leadership as the most important port terminal in Peru.
"The expansion works of the South Dock of the Port of Callao will be remembered as one of the most important works in the country's economy that have been carried out in the 200 years of national independence," stressed the Vice Minister of Transportation and Communications. , Luis Rivera Perez.
The investment in the Bicentennial Dock Project is estimated at 350 million dollars and it is expected to start operating in 2024. With this, DP World will have invested more than 1,000 million dollars in the country.
Press contacts:
Vanessa Garrido: 960711576 (vgarrido@apoyocomunicacion.com)
Astrid Balarín: 981346535 (abalarin@apoyocomunicacion.com)