DP World Paramaribo donates medical respirators worth USD 60,000 to 5 hospitals
Date: 28/10/2020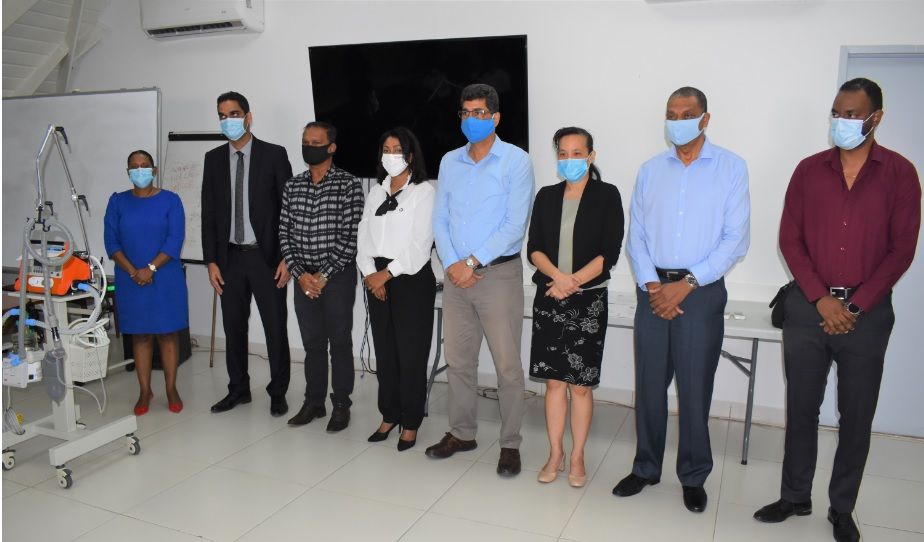 Suriname has been eligible for five respirators through our Global company DP World, located in Dubai. As part of its Sustainability (Corporate Social Responsibility) policy, DP World wishes to contribute in the fight against the Covid 19 Pandemic by donating 100 respirators worldwide through its business units.
Integra Port Services NV / DP World Paramaribo is making this gesture to the Ministry of Health on behalf of five hospitals in Paramaribo and Wanica. This concerns the Academic Hospital Paramaribo, Wanica Hospital, Sint Vincentius Hospital, 's Lands Hospital and the Diakonessenhuis. The respirators have a total value of USD 60,000.
Integra Port Services / DP World Paramaribo, the largest terminal operator in Suriname, provides multi-functional port services with the highest safety, environmental and international quality standards.
The handover of the first respirator took place on Wednesday 28 October by the general manager of DP World Paramaribo, Ms Kotzebue-Fleur, to the Minister of Health, Drs. Amar Ramadhin and the Medical Director of the National Hospital Mrs. Nannan-Panday.
Since the outbreak of the Covid-19 virus in Suriname, DP World Paramaribo has contributed several times to the fight against the virus. Donations to the National Coordination Center for Disaster Management (NCCR) and the Sint Vincentius Hospital have already been made.
A respirator or medical ventilator is a medical device that artificially supplies a patient with oxygen or a mixture of air and oxygen to a patient who cannot or poorly breathe independently, and removes the carbon dioxide produced by the body. Artificial respiration with a breathing machine can be life-saving. With this gesture, DP World Paramaribo hopes to relieve some of the pressure on hospital institutions and to help its patients with respiratory distress.
Society is encouraged to (continue to) adhere to the Covid-19 measures for the sake of everyone's safety and health.
We Care,Stay Safe!
We use cookies on this site to enhance your user experience. By continuing to visit this site you agree to our use of cookies. Learn More