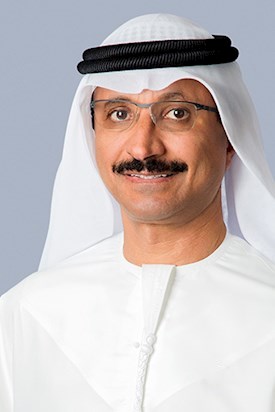 Sultan Ahmed bin Sulayem
Group Chairman and CEO
Sultan Ahmed bin Sulayem was appointed to the Board as Chairman on 30 May 2007 and as Group Chairman and Chief Executive Officer on 8 February 2016. With a career spanning three decades across a wide range of industries, he brings a wealth of leadership experience to the Boardroom.
In his previous role as Chairman of Dubai World he established and led diverse businesses, including Nakheel, a real estate and tourism property development firm; and Istithmar World, a major global private equity investment house.
He oversaw the rapid development of the Jebel Ali Free Zone into an unrivalled business park of more than 7,500 companies and pioneered the Dubai Multi Commodities Centre. As Chairman of DP World he has been at the forefront of the Company's international expansion, including the $6.85 billion acquisition of P&O Group.
Mr. bin Sulayem holds a BS in Economics from Temple University, United States.
He is a Board member of the Dubai Executive Council, the Dubai Economic Council, a Non-Executive Director of Asteco LLC, Noor Bank and Chairman of Virgin Hyperloop One.