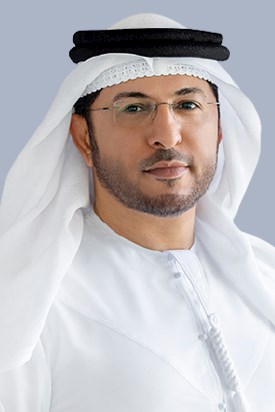 Abdulla bin Damithan
CEO & Managing Director, DP World GCC
Abdulla bin Damithan manages DP World's portfolio in the Gulf Cooperation Council (GCC) region including Ports and Terminals, Economic Zones, Marine Services, Logistics and Trade Solutions
Appointed in July 2023 to oversee the region, Abdulla previously held the position of CEO & Managing Director of DP World UAE.
Abdulla leads the company's business strategies in key GCC markets, including the United Arab Emirates and the Kingdom of Saudi Arabia. His focus is on delivering end-to-end solutions for cargo owners, building world-class trade infrastructure across ports, terminals and free zones, and driving greater supply chain efficiency, transparency, resilience and sustainability.
In the UAE, Abdulla leads DP World's Jebel Ali Port, ranked among the largest container ports in the world, and Jafza, the company's flagship free zone and an essential part of the company's integrated regional business model. This port connects over 180 shipping lines to more than 3.5 billion consumers while Jafza is home to more than 9,500 businesses.
Additionally, Abdulla oversees DP World's Jeddah Islamic Port in Saudi Arabia, a facility handling over 4.5 million TEUs annually, accounting for nearly 60% of the Kingdom's sea imports. Abdulla guides DP World's investment in improving terminal infrastructure at Jeddah Islamic Port, focusing on operational performance and port trade volume.
Abdulla joined DP World in 2001 and has been an integral part of the company's transformation from a port operator to a global smart trade enabler.
During his two-decade tenure, Abdulla has held various senior leadership roles including Chief Commercial Officer of DP World UAE, where he managed revenue generation and oversaw service delivery across key business segments from Ports & Terminals to Trade Enablement.
A recognised leader in the maritime and logistics space within the Middle East, Abdulla serves on the boards of multiple DP World ports and terminals.