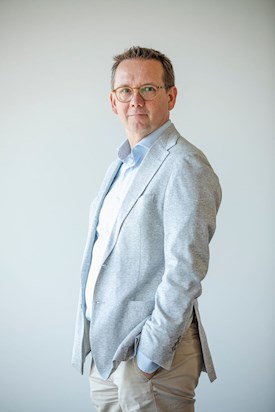 Tom Mortelmans
Chief Operating Officer
Tom Mortelmans became Chief Operating Officer (COO) of DP World Antwerp Gateway in 2019 with more than 25 years of experience in port operations and management.
Tom joined DP World in 2005 bringing along 10 years of management experience at different Antwerp port operators. Prior to becoming COO, Tom was terminal manager in 2005 during the start-up of Antwerp Gateway. Subsequently he led the HSSE department of Antwerp Gateway for 8 years. Tom has strong leadership and people management skills and combines operational excellence with logistics optimisation, focusing on safety on the shop floor.
Tom has a BA degree in English, History and Geography and successfully completed a postgraduate academic master program in International Transport and Maritime Management at Antwerp University. He graduated with distinction as Prevention Advisor level 1 in 2014 from Howest academy. Tom also holds a degree in Terminal Business Management from the DP World Institute in Dubai.
We use cookies on this site to enhance your user experience. By continuing to visit this site you agree to our use of cookies. Learn More