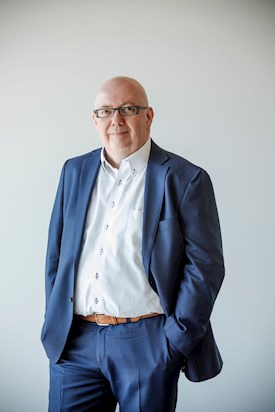 Erik Desmet
Chief Financial Officer
Erik Desmet has been the Chief Financial Officer of DP World's terminals in the Port of Antwerp since 2010. Next to the finance and invoicing function, Erik also leads the Projects Team, responsible for executing expansion Plan 2020, and DP World's empty depot terminal 'Empty Depot Services'.
Erik joined the ports business in the year 2000 as CFO of a general cargo terminal operator, later that year acquired by P&O Ports. Early 2001, he became Finance Manager in the newly established European/African Regional Office. In 2003, Erik fulfilled an international assignment in France and seconded as CFO to the Marseille based terminals from Portsynergy, a joint venture between DP World and CMA-CGM. Upon his return to Antwerp at the end of 2007, he acted as Director Finance & Shareholder Representative for the joint venture Antwerp Gateway and furthermore lead the DP World Antwerp Business Controlling team.
Erik holds a Master Degree in Business Economics, Accountancy and Tax from the Antwerp Business School. In 2019, he attended the program 'Value creation for Owners and Directors' at Insead, France. Since 2001, Erik has held various board mandates in multiple countries.
We use cookies on this site to enhance your user experience. By continuing to visit this site you agree to our use of cookies. Learn More