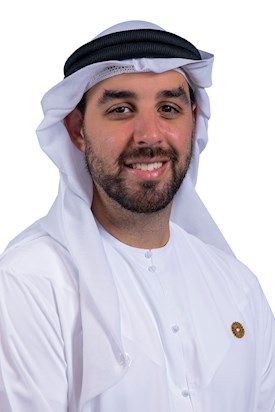 Mohammad Al Hashimy
Deputy Group General Counsel & Company Secretary
Mohammad Al Hashimy is the Deputy Group General Counsel & Company Secretary of DP World. He acts as legal adviser to the Board, and specialises in governance and strategic thinking to ensure that DP World operates in accordance with its values, and in compliance with all relevant statutory and regulatory requirements.
As Deputy Group General Counsel, Mohammad works closely with the Group General Counsel in managing the Legal Department, and leads the Group Company Secretariat Department and the Compliance Department at DP World. Mohammad also leads the Group Sustainability & Impact Department, and has achieved great success in increasing DP World's impact and engagement across a variety of crucial social and environmental issues.
Mohammad is a qualified solicitor in England and Wales, and has a BSc in Finance, Economics and Philosophy from George Washington University in the USA, and a Graduate Diploma in Law from the University of Law in the UK. Prior to working at DP World, Mohammad worked at HSBC in New York.